5 minutes of reading time
(925 words)
BIM World 2020: +40 conferences around BIM and the digital transition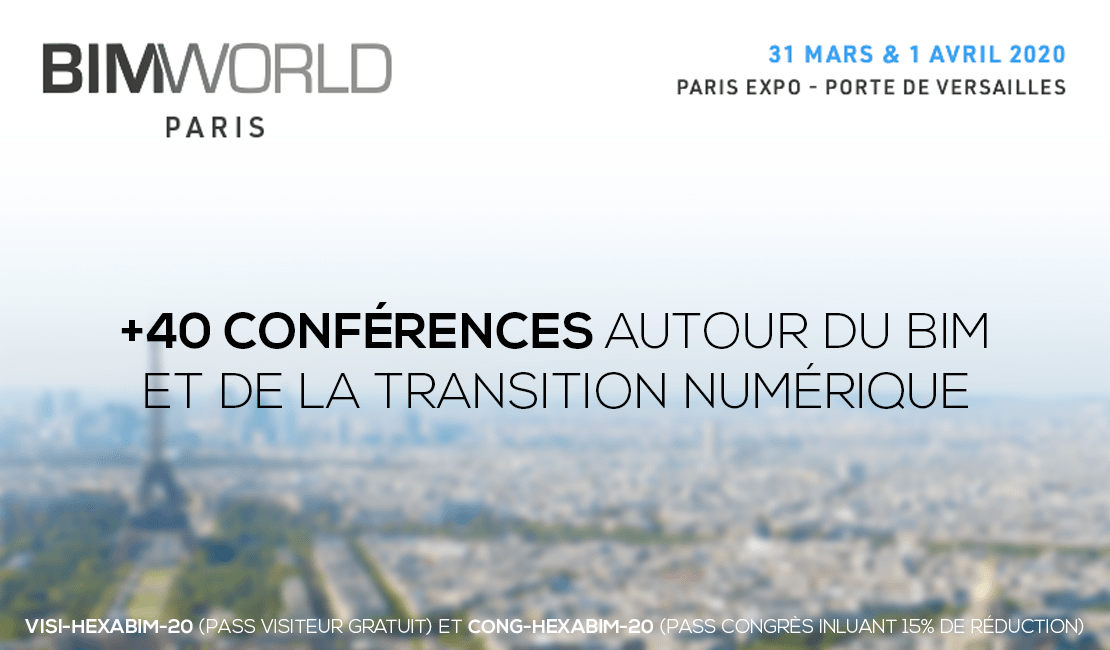 The major BIM event in the heart of Paris! Take advantage of HEXABIM passes thanks to the codes VISI-HEXABIM-20 (free visitor pass) and CONG-HEXABIM-20 (congress pass including 15% reduction) - Registration>
---
This year BIM World 2020 aims to bring together more than 12 000 participants, 1 delegates et 350 exhibitors : a 6st oriented edition Smart data. Three major themes will be at the center of this international meeting and resolutely turned towards the future: the construction 4.0, real estate as service and smart infrastructure.
HEXABIM offers you two codes to take full advantage of these two days:
a free code valid on VISITORS passes: VISI-HEXABIM-20.
a 15% reduction code valid on CONGRESS passes: CONG-HEXABIM-20.
Six conference cycles, the program of which you will find below, will mark out these two days.
A complete program with subjects such as: smart-bulding, territories, BIM-site, transactions, certifications, infrastructures, BIM and SMEs, pollution control etc….
Whatever your function and your status, you will find the themes related to your activity, here is the complete program to organize and combine the themes you have selected.
---
BIM World 2020 Thematic Program - March 31 and April 1, 2020
---
MANUFACTURING AND SITE:
31/03 at 10:00: Advantages of off-site manufacturing and modular construction; example of wood.
31/03 at 11:30 am: Control deadlines, quality and costs thanks to BIM-Site.
31/03 at 15:45 pm: AR / VR, IoT, IA, Drones, geolocation, cobotization, exoskeleton… What applications for construction sites.
31/03 at 17:00 p.m .: BIM and new business tools for small and medium-sized construction companies.
01/04 at 09:30: Design and Model the works: BIM objects, Generative Design,… New productivity tools.
01/04 at 12:00: The traceability of products, data and processes at the heart of Construction 4.0.
01/04 at 14:15 PM: Improve team productivity and secure exchanges with collaborative platforms.
01/04 at 15:45: Plan and optimize public works and major projects.
USES AND SERVICES:
31/03 at 10:00: From transaction to asset management, can digital disrupt real estate?
31/03 at 11:30 am: Financial performance and quality of use: the challenges of Real Estate as a Service.
31/03 at 14:00 p.m .: Certification, labels, traceability, responsibility, security… How to create digital trust.
31/03 at 16:00 p.m .: Guaranteeing digital quality: services and new skills.
01/04 at 09:30 am: BIM-Property management and maintenance: BIM and data are transforming asset management.
01/04 at 10:45: Digital transformation of real estate development professions.
01/04 at 14:00 pm: Territoires as a Service, mobility, flexibility, pooling, sharing and diversity of uses… How to improve efficiency and accessibility to public services thanks to territorial data platforms?
01/04 at 15:30 PM: Flex office, co-working, Building as a Service,… Improve usage values ​​thanks to data.
OPERATION AND MAINTENANCE:
31/03 at 10:00: How to digitize an existing heritage according to the expected services.
31/03 at 14:30 p.m .: 3D, AR / VR, blockchain, indoor geolocation, IA,… What applications in real estate?
01/04 at 09:30: Interoperability between BIM, IoT and SIG: towards the digital twins of buildings and neighborhoods.
01/04 at 10:45: Better use thanks to BIM-Exploitation: feedback and good practices.
01/04 at 11:45: BOS (Building Operating System, edge computing, IoT, ... New technologies to manage the Smart Building.
01/04 at 15:00 PM: Convergence, interoperability, traceability, cybersecurity, governance, trusted third parties… Secure investments, manage risks and create trust in a hyperconnected world.
01/04 at 16:30 p.m .: Transforming Smart Buildings into a data and service platform: technical prerequisites and economic models.
ARCHITECTURE AND DESIGN:
31/03 at 11:00 am: Building more efficient structures thanks to BIM and digital models.
31/03 at 12:00: BIM and new business tools for architects and design offices.
31/03 at 14:00 p.m .: Design and manufacture Smart Buildings by integrating connected objects and digital models.
01/04 at 10:45 am: Towards construction 4.0: connect design offices to factories and construction sites.
01/04 at 12:00: BIM 7D and overall cost: where are we?
01/04 at 14:00 p.m .: Preparing zero carbon buildings and optimizing deconstruction: contributions from digital technology and "low carbon BIM".
01/04 at 15:15: Rehabilitate and renovate the heritage: contributions of BIM and digital.
STRATEGIES AND SECTORS:
31/03 at 10:00: Public procurement, a lever for the digital transformation of sectors.
31/03 at 11:30 am: Major trends in the digital transformation of markets.
31/03 at 16:00 p.m .: Digital contributions to 0 Carbon buildings and energy performance.
01/04 at 11:15: Leading the digital and environmental transition of the territories.
01/04 at 14:00 p.m .: Training and skills development: tools and devices to support professionals.
01/04 at 16:15 PM: The benefits of digital technology for project owners and major asset managers.
SMART INFRASTRUCTURE:
31/03 at 10:00: Roads, stations, ports, airports… How to transform infrastructures into service hubs.
31/03 at 11:30 am: Smart Infrastructure, IoT connected to micro Grids, keystones of sustainable neighborhoods.
31/03 at 14:00 p.m .: From BIM to CIM: organize the digital continuity of buildings with urban space.
31/03 at 15:00 p.m .: Digitize and connect the built heritage, public space, networks and roads to develop new uses, better enhance and maintain infrastructure.
31/03 at 16:00 p.m .: GIS, 3D models, open data platforms: benefits for communities.
31/03 at 17:00 p.m .: The railway industry, a laboratory for smart infrastructure
01/04 at 15:15: Design and use special works with BIM and digital tools.
01/04 at 16:30 p.m .: Depollution and urban planning: the contributions of BIM.
---
VISI-HEXABIM-20 (free visitor pass) - CONG-HEXABIM-20 (congress pass including 15% reduction).
On the same subject:
No comments yet, be the first to comment!
By accepting you will be accessing a service provided by a third-party external to https://www.hexabim.com/