4 minutes of reading time
(757 words)
BIM and Connected Objects at the service of the building of the future - BIMOC Forum on June 7 at the Zénith in Dijon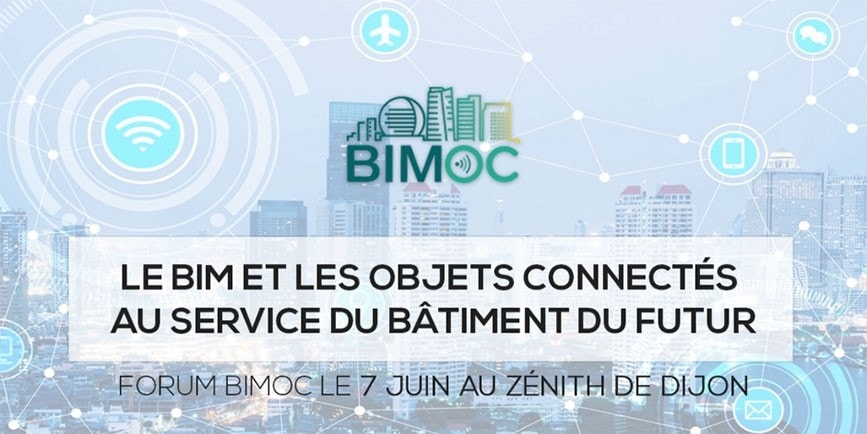 Organized since 2016 by the Cluster GA2B, BIMOC will have its 2st edition next June 7 at the Zénith in Dijon with media support from the HEXABIM platform.
BIMOC is the first Forum to focus on extending the use of BIM and connected objects in their interactions with users, with the aim of massively developing the concepts of smart and agile cities and buildings. With a very original format "half-forum, half-exhibition, half-workshops", in a single day and with access, after the forum, to technical files, it allows to combine meetings and technicalities where everyone will find the level of information and the contacts that will be necessary, with also a networking evening the day before the event!
---
Context
The pooling of data from BIM brings a great knowledge of spaces, objects integrated into the building whether they are connected or not. Data from connected objects interacting with the building and the urban environment will be the source of new applications and services for users such as indoor-outdoor guidance, personalized assistance for vulnerable and dependent users, assistance with the intervention of professionals, access control, securing people and a multitude of others.
In 2 years, a large number of technologies have developed strongly to serve new users. Even if some are, to this day, still in the experimental phase such as travel in autonomous cars, delivery by drone, connected maintenance actions or even a few examples of personal services; their innovation is such that they will be fully part of our daily lives in a few years.
The local touch
For this new edition, the event has been designed to bring the exhibition to life and promote exchanges:
A workshop space animated by exhibitors in the heart of the exhibition area
Workshops open on the mezzanine above the stands
An outdoor space that will leave room for innovations such as drones or connected vehicles
A tasting area for regional products!
This year will take place plenary conferences, workshops, some of which are at your disposal, round tables, demonstrations (intelligent vehicles, applications, drones, 3D scanning, tablets ...) and moments of free time and discussions with Forum participants.
The themes addressed this year:
Deployment of BIM in construction, in operation.
Digitization of the existing.
Towards the Smart city.
Safety - security - protection (the new challenges around the use of drones, robots, intelligent vehicles in the urban environment and around sensitive sites)
Standardization, Charter, Conventions : Update on data standardization and interoperable digital data exchanges.
A Networking-Business evening
A friendly evening, in the colors of Burgundy, is concocted for you in a charming place. The cocktail dinner format will encourage meetings and exchanges! B to B meetings, animated in the early evening, will allow you to meet professionals around the BIMOC theme and expand your network! RDV Wednesday June 6, from 19:30 p.m. (Number of places limited to 200 people).

Exhibit at BIMOC
More than 3000 visitors are expected this year: Architects, design offices, industrial manufacturers, operation-maintenance companies, software publishers, programmers-programmers, elected officials and technicians from municipalities, departments, departments and region, major contracting authorities, social landlords, developers, builders, surveyors, control offices and even asset managers.
More than 35 exhibitors invite you to this event to discuss and discover their know-how. HEXABIM partners will also be present and will have the great pleasure of welcoming you: Atlancad, BIM & CO, FISA, SpinalCom and Trimble.
Good news
! If you offer products or services related to the themes of the forum, there are still some exhibitor areas, do not hesitate to visit the
website
to find out the terms or contact directly
Zoe Binet
&
Isabelle Provaux
(exhibitor management) by email
BIMOC2018@magnesia-process.com
or TEL at
+03 80 70 93 67 XNUMX
/
+06 45 47 67 4 XNUMX
5.
-50% on your visitor pass
As a Media Partner, HEXABIM offers you a 50% reduction on the 1 day pass (50 € HT instead of 100 € HT) with the reduction code: HEXABIM-BIMOC

---
Useful information
Info: www.bimoc.fr

registration : www.weezevent.com/forum-bimoc-2018
En train :
Paris: 1h35 - Paris CDG Airport: 2h00 - Lille: 3h00 - Lyon: 1h45 - Zurich: 2h25 - Strasbourg: 2h00
By car :
Paris: A6 - Lille / Belgium: A26 / A5 - Metz / Luxembourg: A31 - Strasbourg / Germany: A36 - Geneva: A40 / A39
The Zenith has a large car park (free).
Copyright
© HEXABIM | BIMOC
On the same subject:
By accepting you will be accessing a service provided by a third-party external to https://www.hexabim.com/