7 minutes of reading time
(1386 words)
Member of the week: Nicolas YANN and the Canopée des Halles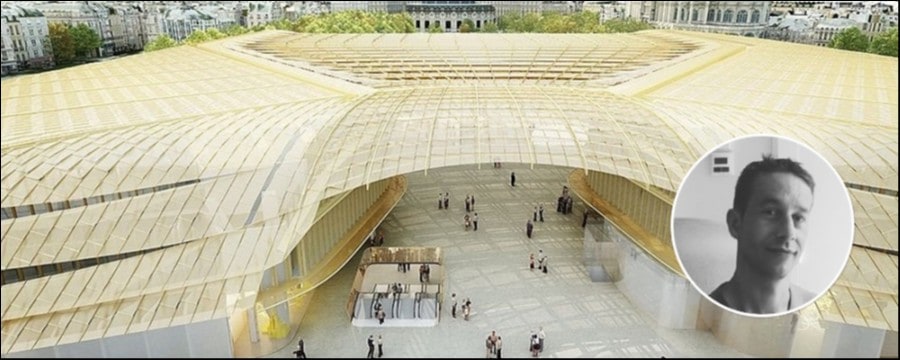 Our weekly series "Member of the week"continue this week with this time the metal frame which is honored through a fascinating exchange with Nicolas YANN, draftsman - designer specialized in Tekla Structures. We will discover his background and how he fell into BIM with Tekla, his favorite project "The canopy of Les Halles"and his missions during this project, they will also talk to us about his daily tools and as tradition dictates what he thinks of the community hexaBIM !
---
What path has brought you to the world of BIM and digital mock-up?

I Metal Structure Draftsman since 2001 on Tekla structure. On the various projects I have been in charge of, I have always been keen to integrate 3D dwg or step elements (door, skydom portal etc.) into my models as well as the environment in order to optimize as much as possible the design of my frame. Unfortunately at the time, few suppliers developed their elements in 3D but only in 2D. So I had to create them myself.
It was there that I understood that the world of BIM (which did not yet exist or hardly existed) was going to be part of the evolution of the profession of designer.
Why did you choose Tekla as your modeling software and how do you find it? Are you going to test and use other software? 
Why did you choose Teklastructure as your modeling software? Well ! I fell into it when (I was little: p) I started my career as a designer in a small metal construction design office. We mainly made farm buildings in kit form that could be called standard. Coming out of a training on Autocad 2000 in an AFPA center after 4 years as a metal framer, I discovered a new tool: Xsteel and 3D, it was a bit like a video game, I was trained by my colleague (thank you Nico). I have never taken any training. From there began my passion for this software. It is software that I consider to be Formula 1, but you still have to know how to drive it. It takes almost 2 years of practice to be really operational and above all to have the spirit of "minimum effort for maximum efficiency" so be curious and use all the power Tekla, I am only today between 50 and 60% of acquisitions can be ?? We can model EVERYTHING, EVERYTHING to manage ALL trades combined. When we want we can !
The version of Tekla which was called XSTEEL has evolved enormously in 14 years of practice and it is not finished thanks in particular to BIM and the various extensions of other 3D software such as Revit, Rhino, Grasshopper, solidworks, which I unfortunately do not master not yet). Tekla now manages these different extensions as objects that we insert into our models.

It is a real pleasure this software. It's a little, even a lot, for all these reasons that today, I am keen to evolve professionally as a BIM manager and thus discover and master other software such as Revit, Rhino, Grasshopper , solidworks, Navisworks and many more.
What BIM projects have you worked on and what were your missions?

My first real BIM experience was during a supermarket project, the construction and fitting out of a 3 m² food store in the city center (Ladders 77 ) with the creation of 150 parking spaces on the 1st floor as well as 2 m² of reserves on the 500nd floor. A first for me. The project was in 2 phases with very tight timing, ie 2 months in all. The first phase was the construction of the new structure next to the old store still in operation with a reduced working surface. Installation of the tower crane, storage areas, construction huts, concrete posts and beams, traffic (machine, nacelles, etc.). I was in charge of the synthesis of the book. Our subcontractors do not work in 14D apart from 3: p, so I had to model everything based on the Exe plans for all construction companies of the VRD, plumber, refrigeration unit, etc. I had become BIM Manager! It was a real pleasure!


Thanks to the compiled model in which I integrated 3D dwg objects (delivery trucks, cars, escalator, elevator) I was able to show the Architect and the client (delighted to be able to discover their "BB" on video projector) the various design problems and especially the final rendering, so I proposed with my collaborators adequate solutions (like Sheila !!! because Sheila, she has couat (duvet))).

It was my first real experience with BIM.
My favorite ! Canopée les Halles project:

For almost 3 years, I have been fortunate to have been part of the various design offices that have collaborated on this La Canopée project.

To start this adventure !!! : p I integrated the Castel and Fromagé BE on site, which counted up to 12 designers and 3 calculators. My first mission was the team design of the metal frame of the North and South Buildings.


We did the modeling and the modifications according to the reports of the 3D synthesis and the project management. Then I was in charge of a scouting mission on the modeling of these 2 buildings in order to anticipate the various problems.

I then carried out temporary works, mounting brackets for the caissons, supports for the canopy roof.

Then I joined the Viry team for the modeling of the roof vents (6 months to 4 people) Exe and layouts.


The book came to life!
The complexity of the unpublished work was such that they had to call on very great professionals (sometimes even retired) expert in the work of art, whether for the welding of the boxes and the louvers and of the unjamming for the roof.
A meeting and above all a personal enrichment of their indefinable and unforgettable experiences.
Once the slatwork mission was over, I stayed within the Be for the finishing touches, barely 10 months! (laughs) well yes there was only me left as Teklasien.

Modeling of angular coverings of roof support caissons, modification of monumental staircases and creation of ovoidal guardrails.
I then (and yes it is not finished: p) joined the company which was in charge of the glazed facades of the Canopy, an area that I did not master at all (facade maker) so I learned.
I modeled the entire patio, i.e. almost 350 ml of glass facade with Tekla structure or I had to develop parametric macros and create different profiles Steel / aluminum / gasket / GLASS / sheet metal screws / cladding.
There you go, today I'm waiting for my contract to lay the carpet: p (laughs)



You joined the community last June, what do you think of this platform and what do you propose to continue improving it?

What to say except thank you to Mohamed KHETTAB for setting up this site which brings together all the 3D technicians and which I hope will allow BIM to evolve at its fair value, namely the future of construction.
Add a "useful links" tab, the sites of the various CAD / CAD software suppliers (updates / new products / Bim objects) tekla / autodesk / rhino / revit .... and why not also the links of the various large groups such as Vinci / Eiffage / DL / ingerop etc. Who are recruiting: BE architects / etc.
Also add a tab "EXCHANGE OUR 3D ELEMENTS", in the case of a user who has an escalator, or a helical staircase, an elevator, a skydom, a vehicle, a crane, a construction hut ect .... in 3D to be inserted into our models.
Thank you Nicolas for these magnificent moments, you made us discover the backstage of the most beautiful project "La Canopée des Halles"! We now know that there is between us an expert but above all a BIM and Tekla enthusiast!
I will personally take your suggestions into account, to put it mildly we are working on a new matchmaking section that has exactly what you described and has been doing so for quite some time! It reassures us that you have thought of the same!
Do not hesitate to ask your questions to Nicolas, by commenting on this article or through the discussions, you can also contact him via his profile below and visit his BIM Show album to see his achievements up close!
---
Nicolas YANN
On the same subject:
By accepting you will be accessing a service provided by a third-party external to https://www.hexabim.com/