4 minutes of reading time
(846 words)
Companies, Agencies, BE, Organizations and Startups: The 13 BIM players who are recruiting at the moment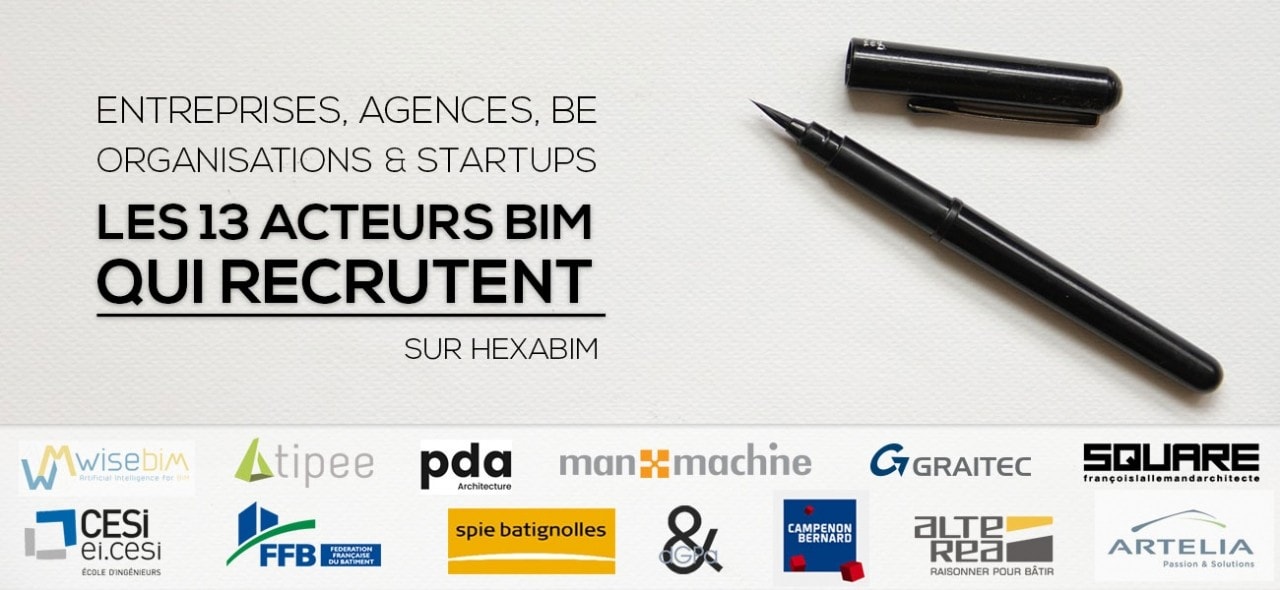 In a world undergoing digital transformation, companies in the construction sector increasingly need support and are increasingly looking for skills around "BIM". This last is now invited in all types of structures: Architectural firms, large companies, integrators, design offices, professional organizations, training establishments and startups: there is something for everyone profiles!
Young graduates or experienced professionals looking for new BIM opportunities? Overview of companies currently recruiting on HEXABIM!
---
BIM MEP Specialty Coordinator
CDI - Paris

The successful candidate will report directly to the company's BIM Manager. In particular, it will be necessary to ensure BIM coordination assistance missions for our customers and to train on AEC software dedicated to BIM Production.
Business Developer BIM / CAD
CDI - Paris

Reporting directly to the General Management, your missions include prospecting, monitoring and development of a clientele generating or capable of generating a significant and strategic turnover / margin for the company.
---
BIM Building Engineer
CDI - Paris
Enter a title
Within the Technical Affairs Department, under the responsibility of a Head of Department and in collaboration with the FFB team and departments concerned, you monitor the building's digital transition file, in particular BIM.
Architect collaborator Revit
CDI - Monaco

The Square architecte agency located in Monaco is looking for a collaborating Architect (M / F) with at least 2 years of experience. Mastery of Revit software is essential because this collaborative tool is systematized to date on each project.
---
To complete our office, we are looking for two BIM architect or architectural designer. You will join a young and dynamic team working on various projects. Tochanges are possible on BIM coordinator / BIM manager / project manager positions depending on training.
Designer - BIM Modeler
CDI - Le Bourget-du-La
Your mission will consist in participating in the realization of BIM projects from 2D plans. We are counting on you to enrich the models and check their conformity. The use is within the framework of modeling projects of existing parks of large volumes (housing, tertiary, etc.)
---
Confirmed Trainer
Consulting / Freelance - Nanterre

Our BIM training is growing in all of our training areas. This is why, within this framework, the CESI Nanterre center is looking for temporary BIM trainers. This offer is intended for training consultants or employees.
BIM designer
CDD / CDI - Ile-de-France

As part of the strong development of its activity, PDA is looking for a Designer to join the Agency. Under the direction of the project managers, you will for example be in charge of the production of plans and details under REVIT, on all phases of MOE projects.
---
Revit Structure trainer
CDD / CDI - Ile de France
Enter a title
We are looking for a designer with extensive Revit experience and demonstrated structural competence. Graitec supports General Contractors and Design Office clients in their adoption of BIM and Revit.
BIM Project Manager
CDD / CDI - La Rochelle

As part of our development, we are looking for a person with building experience to become a project manager within the BIM cell of the platform.
---
BIM Modeler
Internship - Villeurbanne
As part of the creation of the BIM, Digital & Innovation department of the Center-East Operational Department of VINCI Construction France, we are looking for a BIM Modeler intern. The candidate must have knowledge in HVAC / energy control / dynamo and master Revit Architecture software.
BIM Engineer
Traineeship - Pays de la Loire
Numerical modeling is booming and is revolutionizing working methods in architecture and building engineering. As a BIM Manager intern, you will participate, alongside our teams, in the deployment of the 3D digital model (BIM) within ALTEREA.

---
Specialized BIM Engineer
Internship - Occitanie
Enter a title
VALERIAN is looking for a TFE intern for an end-of-studies project as part of a large linear infrastructure project. ATAccompanied by the Project Studies-Works Coordinator and the company's BIM referent, you will participate in the implementation and use of the 3D digital model and BIM.
BIM engineer and data visualization
Internship - Ile de France

Within the Digital BIM department, your main missions will consist of Identifying data visualization tools, Extracting data from Revit, Setting up a dashboard and indicators to be defined
---
An offer to broadcast on HEXABIM?
On the same subject:
By accepting you will be accessing a service provided by a third-party external to https://www.hexabim.com/