7 minutes of reading time
(1365 words)
Let's talk about BIM! with Emmanuel Di Giacomo from "Autodesk", architect but not only!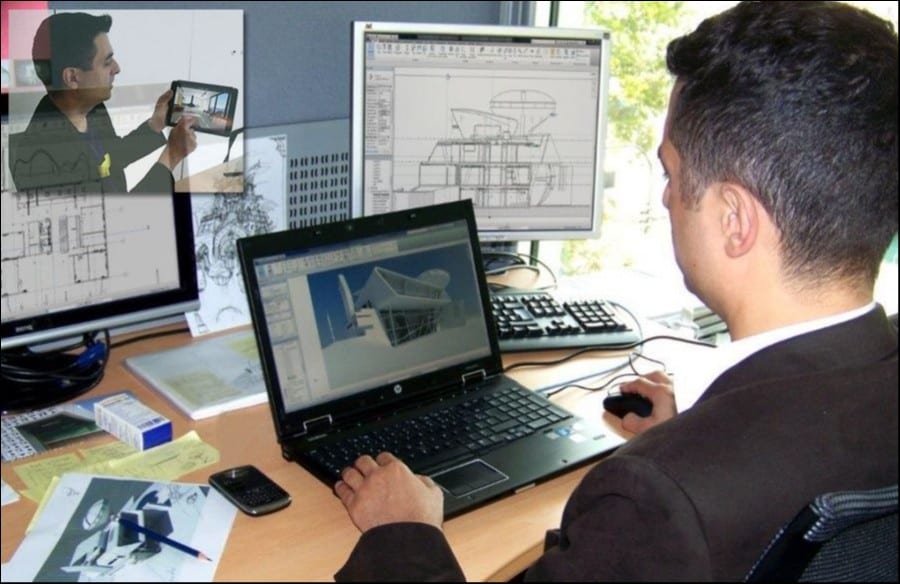 Emmanuel Di Giacomo, that sounds Italian! We have the grandson of Salvatore Di Giacomo, the famous Italian poet !?
Yes, it is of Italian origin indeed, and the other half is French :) I am not the grandson of Salvatore, nor of Franco, the famous film photographer. Just a distant cousin of Alan Stivell from my Breton origins.
And you have decided to become an architect! How was the start of your career?
Originally, at 14, I wanted to be an automotive designer because I was passionate about this job and I was already drawing a lot. Then I very quickly opted for Architecture because I felt a stronger affinity for this fascinating profession. I was fortunate to be a student of Paul Maymont, founder of UP7 and Grand Utopiste of the 60s who designed cities on water for Japan and the Paris of the future, underground to facilitate circulation. I worked in an agency then, the passion for 3D helping, I turned to Software Edition.


How did you endure the switch from the good old drawing board to CAD? Were you started with AutoCAD? Which version ?
I experienced it very naturally because I went from high school, where I had learned to use rotrings, to the School of Architecture with the transition to intelligent 3D applications for Architects on Mac like ZOOM d'Abvent, and Architrion. I was with a few friends and colleagues, one of the gifted and fanatical Architrion in France! I never used AutoCAD, even though I saw it arrive in the lab, but I always insisted on working on "Business" applications like Architrion and Autodesk Revit. AutoCAD has never failed me so :)


You've been at Autodesk for more than 12 years, the atmosphere in this company must be great, what do you do during your days?
Autodesk is indeed a great company with thousands of amazing and exciting people and a technological advance that makes you dream… I am extremely proud to be a part of it. 12 years is indeed a long time and I had the chance to take on several different roles. I joined AEC Marketing Manager and had the happiness and the good fortune to launch Revit in France. It was my "Baby" that I pampered during his first years, he had to because there was a lot of resistance against die-hard ADT fans who thought Revit would never supplant him. I then took care of our important Customers in Europe for more than 6 years as Product Manager and Methodology Manager to help them move from CAD to BIM. I had the honor and the happiness to take care of Agencies like Zaha Hadid, Brunet Saunier Architecture, Piero Lissoni and many others.
My days ? I do not see them pass J I am very often on the move in the world, in Europe, in France, I handle an endless stream of emails, take care of my blog ABCD Blog, participate in many internal meetings, or in external meetings with organizations such as buildingSMART, FFB, I train schools and high schools, I participate in BIM conventions around the world, at Autodesk University, etc. I often end my days around ... 2 a.m. :)

You arrived in the world of BIM several years ago, were you aware that the construction world was going to restructure around BIM?
I often say that I have been working in 26D with software for Architecture for more than 3 years and that it has always seemed natural and obvious to me! The arrival of certain 2D software was for me a methodological and intellectual regression in the face of these innovative technologies. I have always been convinced that 3D and what is now called BIM would come back to win and take over the entire construction industry! It could not be otherwise. I am often seen as a staunch supporter of BIM and Revit, even internally.


How will you see the construction in 10 years? Will it always be BIM?
In 10 years ? I don't know if we will still be talking about BIM or a new concept, but I think that given the speed at which technologies are going, we will perhaps have buildings endowed with an artificial intelligence, a heart, a a soul which will have been conceived and integrated from their birth by computers of a power still unknown to us. Perhaps we will have buildings which will be created on the basis of cells and virtues that will be assigned to them and which will develop according to the environment in which they are positioned. An even more advanced concept than the "Flux" technology that you have no doubt heard of ...

You are the initiator of several fairly well-known sites in the BIM world, in particular ABCD blog, there you can find the latest BIM news, It's a job in its own right! What can you tell us about?
I was indeed at the origin of Village BIM first, as a moderator and strong contributor 4 years ago. Its success cannot be denied and I am happy to have left it with more than 500 visits per day, because I put a lot of energy and passion into it. I then wanted to launch a less technical and more oriented blog, BIM, Architecture and Conceptual Design which talks more about what is currently happening in the world around BIM, trends, projects, events, standards, regulations , Customers, etc. I manage it alone because I can thus respect an editorial line which is specific to me and to which I stick. I also put a lot of energy, time and passion into it because it requires daily monitoring. I also try to relay many messages and events from our Partners, whoever they are, but above all I try to relay what is happening in the construction industry.

Utopic City on facebook, more than 96.000 fans! Are you going to uncork champagne for your 100.000th fan?
Ah, Revit Utopic City is also my favorite Baby because it first of all conveys an idea and a concept that has been dear to me since I was 15 and the discovery of the Italian Futurists: Utopia which was also revealed to me and amplified. by my Master Paul Maymont, himself a pupil of Auguste Perret. Then it is Italy, dear to my heart because it is on the basis of Rome for Utopic City I that I created the first city, then Milan for Utopic City II that you see now. I would like to thank from the bottom of my heart all my Fans who made it possible for me to reach 96100 Likes, which I never imagined when I launched my city a few years ago. I hope to get to 100, that would be fantastic! Why not indeed uncork the champagne or give a nice gift to the 000th Fan :) But there is still a long way to go and I'm always afraid of getting bored of my Fans :)

You were among the first members who joined hexaBIM, how did you find this site? Are they different from others? We are convinced that you are a visionary Emmanuel, that what hexaBIM can become or bring to the world of BIM in the near future?
I discovered hexaBIM and you Mohamed through one of my Colleagues! It's a great blog, very lively, different because it is participatory and we do not practice the language of wood, it's great! You are pragmatic, efficient and very professional and it is full of very interesting information. You are already essential in France and I wish you to become the technico-methodological hub of BIM in France!

A word for the hexaBIM community?
Bravo to Mohamed, bravo to hexaBIM and his Community, continue this beautiful path that you have started to trace, you will be a hit for sure, because you too, it is the Passion that drives you!


A big thank you to you Emmanuel for taking the time to answer my many questions, I think that there are a lot of things that you will make us discover following this article, we tell you looking forward to reading you!

Don't hesitate if you have any questions for Emmanuel, I'm sure he'll be there.
On the same subject:
By accepting you will be accessing a service provided by a third-party external to https://www.hexabim.com/