4 minutes of reading time
(875 words)
The acquisition of Stabiplan by Trimble: Our questions to François METTEIL and Marc De Fleury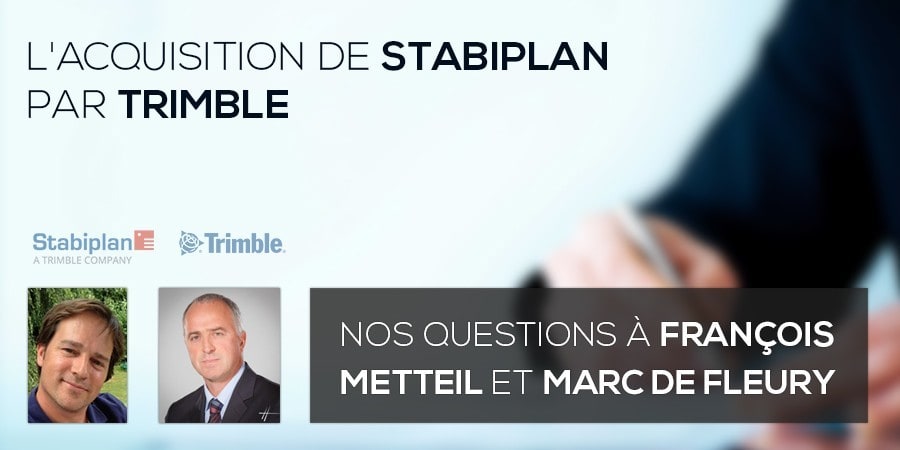 2018 started strong for the two solution providers Trimble Buildings and Stabiplan with a strategic acquisition, as mentioned in the official press release, the acquisition of Stabiplan expands Trimble's existing construction solutions for installers and design offices MEPs that automate estimation, project management, modeling, detailing, layout and construction. With the prospect of international development of Stabiplan.
We asked a few questions to the two French representatives of the two structures Trimble MEP and Stabiplan, respectively François METTEIL and Marc DE FLEURY, here are their answers.

What interests does the acquisition of Stabiplan represent, historically linked to Autodesk Revit and Autocad solutions?
Trimble's goal is multiple :
Work in collaboration with Stabiplan in order to offer customers their complementary solutions to the Trimble range.
To provide engineers and installers looking for opportunities to improve their production flow and profitability, thanks to the combination of our strengths.
Seek global opportunities to expand Stabiplan's current product portfolio.
Together, Trimble and Stabiplan offer unique MEP expertise. Plancal Nova et Stabicad allow us to provide a full set of solutions, as well as the platform MEPcontent, market leader in BIM libraries.
It is also the opportunity to distribute the solutions of 3D scanner and installation stations for customers resulting from the acquisition of Stabiplan as well as the VDC which allows to recreate 3D models from point clouds.
Overall, with nearly 1 people in the MEP division fully dedicated to the MEP market, Trimble offers a set of BIM solutions that best meet the needs of the market.
How will stabicad position itself vis-à-vis the existing Trimble Plancal Nova solution?
Everyone will benefit from the best of each solution to make it available to our customers in the long term. The two offers are complementary, one being in a Revit or AutoCAD environment and the other based on an independent engine.
How will the MEPcontent content platform complement the Trimble MEP offering?
There are more than 530 articles referenced on the MEPContent platform which complement the 7 articles already existing on the platforms System et Building data. These are the products of manufacturers in heating, air conditioning, ventilation, sanitary, electricity, etc. necessary for the design of a fluid network.
The objective is to help manufacturers and distributors to provide better quality service to their customers by providing them with high-level digital catalogs including technical and price information.
---
Will your products be compatible with Trimble solutions including Plancal nova?
Our solutions are completely complementary, corresponding to our multi-platform strategy in which the customer chooses the solution that best meets his needs: either a solution on an Autodesk platform with Stabicad for Revit and / or Stabicad for AutoCAD associated with BIM content in the world of MEP with MEPcontent, a solution on an independent Plancal Nova engine.
Will this acquisition impact Stabicad's historical development for Autocad and Revit solutions?
Indeed, Stabiplan is a company which has a very large development team dedicated to the world of MEP with to date more than 90 developers both for the software part of Stabicad and the content of MEPcontent, and with the strength of Trimble group and more particularly the Trimble MEP division this will allow us to further accelerate development.
What are your future development axes and your common actions around BIM in France?
We do not publicly disclose our future developments, but we can assure you that we will continue to be "Leading in MEP design". This means that we will continue to provide the best possible BIM experience for MEP engineers and installers in terms of software and content.
---

And you, what do you think of this merger?
---
Since its founding in 1990, Stabiplan has become a leader in the development and sale of design software for MEP engineering in Europe. Stabiplan's Stabicad multiplatform product is tailored to local needs and user preferences. Stabicad enables engineers to design, visualize, control and optimize building services. The online BIM library for MEP contractors and engineers www.mepcontent.com offers up-to-date 2D and 3D BIM content and productivity-enhancing applications for the MEP community. Stabiplan has offices in Belgium, Germany, France, the Netherlands and Romania.


Trimble Buildings offers innovative solutions designed to increase the productivity of construction companies. Integrated into Trimble Buildings, the Trimble MEP division is a leader in the provision of integrated BIM (Building Information Modeling) services and solutions. The solutions offered are dedicated to building construction companies as well as to construction companies in the fields of sanitation, heating, ventilation and electricity. By sharing information from construction processes collaboratively, Trimble MEP helps increase productivity and efficiency throughout the project, from creation to finish. Drawing on its experience and knowledge of specific markets combined with its expertise in positioning technologies, Trimble provides MEP contractors with a full range of solutions.
On the same subject:
By accepting you will be accessing a service provided by a third-party external to https://www.hexabim.com/