4 minutes of reading time
(780 words)
MEP and BIM specialists, +15 business subjects and issues to follow online at Basecamp Trimble France (Tuesday, Sept. 29 at 10 a.m.)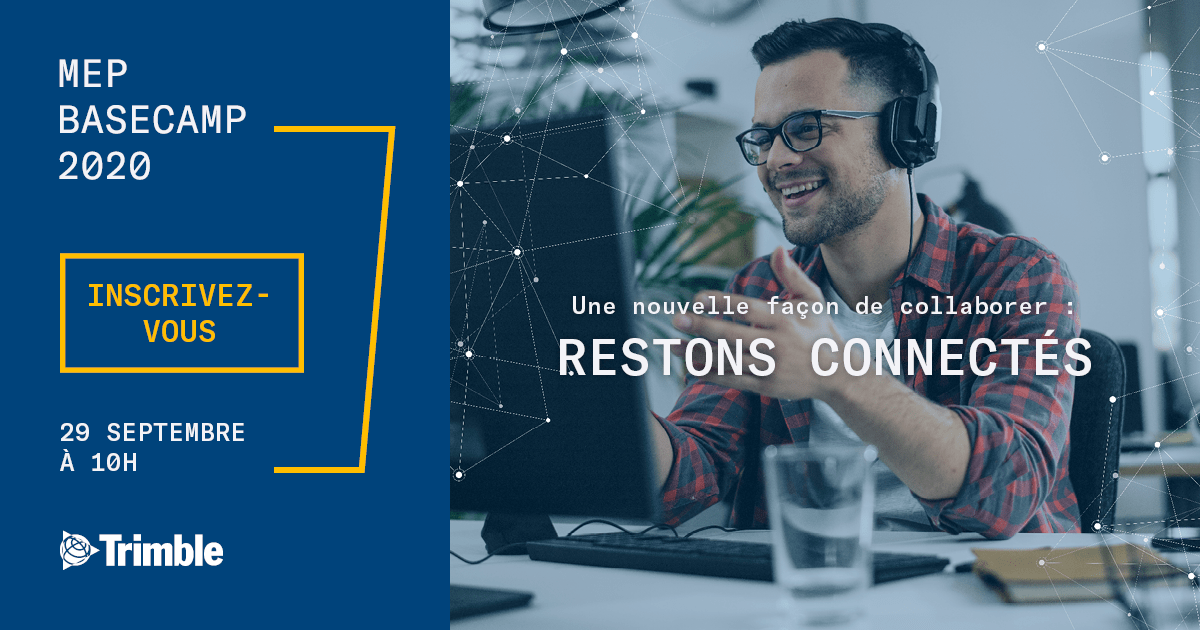 The September 29, Trimble MEP Basecamp France, it is the unmissable meeting place for MEP professionals to learn all about Trimble products. A concentrating day 18 online sessions. By registering, you will have access to all the sessions, then you are free to select the product themes that interest you.
From 10 a.m., the team of Trimble MEP Basecamp France made of Rob Painter (CEO Trimble inc.), Lawrence smith (VP and GM Trimble MEP) and Marc de Fleury (Sales Director France), will welcome you online for a general presentation in the form of a keynote, followed then, at 10:30 am, by a question / answer session.
Here are the technical topics that will be discussed during this day with Trimble experts and solutions, but not only:
Calculation of sanitary supply networks

Aeraulic networks and heating networks

IFC exchange

Electrical calculations integrated into Revit

Electricity management

Create a real 3D model sized and generated from the wireframe

Model-based estimation and the meeting between the different worlds of modeling, content and estimation

.

Modeling of technical and prefabricated rooms

BIM library for MEP engineers

Plumbing and gravity management

Prefabrication management

Project Management

Reservations management

Managing electricity in Revit

Collaborative Platform
In addition, special offers will be reserved for MEP Basecamp participants. Register to take advantage of it!

---
---
HEXABIM interviewed about it Marc de Fleury which represents Trimble MEP France, as Sales Director France, surrounded by a team of 26 employees, mainly focused on the technical, commercial and marketing aspect.

---
Why a Basecamp, how will this day be structured? Who is she talking to ?
During this day, all of our technical and sales teams will present our solutions such as Trimble Nova on an independent platform, Stabicad which is installed on the Autodesk platform for AutoCAD and / or on Revit, or even Trimble Connect. All our solutions, as well as the previews will mark this day.

It is a 100% online event, given the health context. The presence of Trimble CEO Rob Painter and Lawrence Smith, Vice President and General Manager of the MEP division of Trimble who will make an intervention, as well as the question-and-answer time represent a real opportunity not to be missed during of this Basecamp.

This day is for everyone, both users, customers and partners (BET, installers in the field of fluids, etc.) and people who have heard of our solutions but want to know more. Everyone will have the opportunity to discover them with our teams, in order to show them what they would be able to do with our solutions. During the Basecamp, we will support them to make the right choices for the future.
Being an American company, the Basecamp is also an opportunity to show what we are doing in other countries, in particular a preview solution not yet available in France: Trimble Estimating, which allows cost calculations to be made in the fluid world.
What is your expertise and your observations on the uses made of Trimble MEP solutions. How did you analyze customer usage?

For 5/6 years, we have been moving towards BIM, our challenge is to simplify the BIM experience for our users and to find solutions to all problems.

And Trimble's vision is not just BIM but the "Buildable Process". Concretely, today in the Trimble MEP France division we offer two solutions: Trimble Nova, which is a solution on an independent platform, and Open BIM and the Stabicad solution for the Autodesk platform (AutoCAD and Revit). Today, we are the only company to offer both types of solutions, allowing our technical and commercial teams to help users choose one or the other depending on the business environment, the type of projects, software used by their partners. The Basecamp is a very good opportunity and aims to help participants make the right choice in terms of MEP software and support, whether in terms of strategic decision-making, training, support thanks to a team of dedicated fluid specialists based in France.
Will the Trimble MEP Basecamp be an opportunity to showcase new products and solutions?
Yes!

Trimble nova 16 released recently, we will be presenting all of its new features.

Stabicad 12.17 will be previewed, with great new features.

Trimble Connect also, our collaborative platform that we are in the process of setting up and which offers a collaborative environment for all Trimble solutions, but not only!
We will also be previewing Trimble Estimates.

On the same subject:
By accepting you will be accessing a service provided by a third-party external to https://www.hexabim.com/