12 minutes of reading time
(2451 words)
Activities not to be missed at BIM World 2017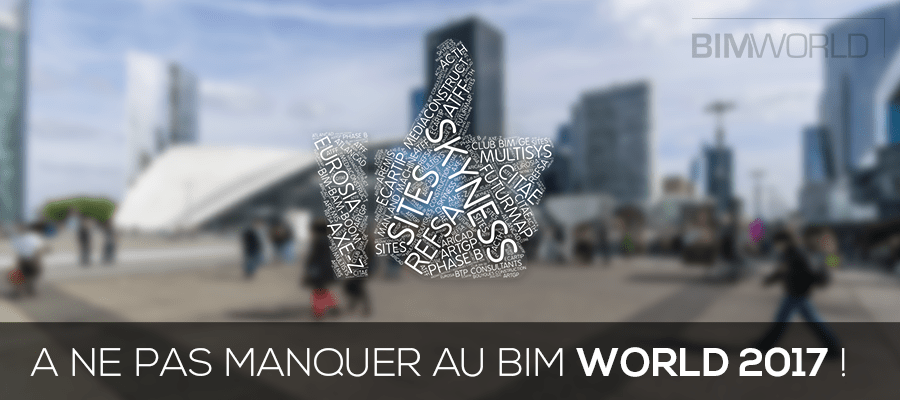 ACTH (145)
Come and discover ACTH, an expertise in the BIM integration methodology: AMO-BIM alongside the project management and project management of the company for the deployment of BIM. BIM TRAINING from initiation to improvement on the various tools. A BIM vision on digital transformation adapted to businesses, functions, and levels of responsibility (I understand, I position myself, I deploy). Support for organizations (AMO, AMOE). Teaching-coordination of the University Diploma "Numerical modeling of building BIM" Paris Est Marne la Vallée University / Pole EVA.
---
GRAPHIC ART AND HERITAGE (37)
For this 2017 edition we will be associated with exceptional partners, Microsoft et Cintoo 3D.
We will present our innovative solutions for the BIM process: from the acquisition of 3D HD data to the TQC model, applications for collaborative work (on Surface HUB) to maintenance via mixed reality (Hololens). Our team of BIM experts will present a " workshop-demo "On BIM TQC AGP using a Microsoft Surface Studio. The demo is scheduled on the stand on Wednesday March 29 at 15 p.m.
Since 1994 AGP has been a real reference in the exploitation of new technologies for cultural heritage, whether it is the digitization and 3D modeling of historical monuments and works of art or the implementation of tools for cultural mediation, using augmented reality and virtual reality.
---
AREMIS (212)
How much of your wealth do you really owe " BIMize "? You want to model existing buildings. Which method should you follow? You have a construction project. What to do to ensure an optimal transition toexploitation ? Do not hesitate to join our BIM experts to talk about it!
AREMIS supports you in the management and constant optimization of real estate, workspaces and services to buildings and occupants. AREMIS helps you put them in place to allow you to be more serene and better develop yourself every day.

---
ARICAD (63)
Autodesk Platinum Partner, AriCad will be present at the BIMWORLD show. AriCad will present its latest development achievements, including BIMVIEW (online viewer of .RVT files).
AriCad, NUMBER 1 in Autodesk software sales in France, brings to all construction stakeholders, architects, design offices, general contractors, its expertise in the management of digital models, contributes to the adoption of new methods of BIM (Building Information Modeling) or (Modeling of building data).
---
ATFF (194, 195)
ATFF will be present to present their services of reality capture which are aimed at all customers. In addition, they will have a virtual reality headset HTC Vive in order to immerse customers in point clouds.
Also, Florian FAUCONNET will animate with Stephane Arlandis the ATE318 14:30 - 14:55 session on March 29, 2017 on the topic "Capture, design, simulate and operate".
ATFF is a service company specializing in reality capture, from fixed 3D laser surveys to mobile 3D laser surveys, including aerial photogrammetry. Their job is to capture their clients' sites in order to deliver them a point cloud or a digital BIM model of their projects, in order to facilitate the start of studies.
---
ATLANCAD (120, 121, 122)
On the occasion of BIM World we will present the new version of Revlib for Revit Structure and Revlib for Revit Me p (templates professionals enriched with a business library for Revit), Dynapps, Dynamo definition launcher, PIRO CIE, specific ribbon for Revit Mep (automatic offset, reservations, Dialux import-export, etc.). We also invite you to immerse yourself in the digital model thanks to virtual reality and augmented reality (HTC Vive and Hololens)
Since 20 years Atlancad supports its clients from the Construction and Industry markets in their projects with tailored advice thanks to the expertise of our team. Our BIM division led by Jonathan RENOU has solid credentials. With Antonio CALABARESE (architect), they work on many files with public and private contracting authorities.
---
Z-AXIS (230)
We are specialized in 3D scanning, modeling and operation of the 3D BIM digital model in the new building and renovation sector (architecture, civil engineering, technical)
We have also developed internally, in order to obtain a better control of conformity and feasibility of the work, applications, algorithms such as the analysis of deviations and works which makes it possible to verify the geometric deviations between the initial project and once the work has been completed, control of reservations by geometric comparison with detailed analysis of tolerances, extraction of coordinates which allows data from the model to be exported to a robotic station in order to automate repetitive layouts.
---
BIM BAM BOOM (176,177)
We will present our full range of services to support you in your BIM process. We speak training, strategy BIM implementation, methodology and BIM Management through our various projects carried out for VINCI, SPIE, ADPI ...
BIM BAM BOOM is a company of BIM consulting, leader with more than 50 million m² of experience in BIM and the only company in France to have the triple Autodesk Professional REVIT MEP Mechanical, MEP Electrical and REVIT Architecture 2017 certification.
---
BOUYGUES CONSTRUCTION (141, 142, 143, 144)
Different activities to discover on the stand: a space for virtual reality projects with the HTC Vive headset, the latest KBIM V2 Light, the construction site revolution, the augmented reality application Ramby and the latest videos of BIM achievements of group entities.

Several workshops & conferences as well (Atelier Bouygues Construction / Bureau Veritas / Setec / Coste New BIM control and visa processes - How large manufacturers and builders are accelerating digital transformation - BIM / GIS / 3D / IoT convergence What consequences for operations - How BIM impacts architecture - The challenges of BIM operations).
---
BTP CONSULTANTS (9)
Patrick Vrignon, president of BTP Consultants, will speak during the workshop "
BIM: the path to self-monitoring
"On March 29 at 11 am alongside Fabrice Kerlogot, François Pelegrin and Olivier Legonin to present the various initiatives in terms of controls put in place thanks to BIM.
Technical referent in the service of good living in buildings, BTP Consultants offers recognized specialists throughout France to provide innovative solutions to all your issues.
---
CITAE (10)
Pascal Loisel, president of Citae, will speak during the conference "The client's tools for placing orders in BIM"March 29 at 14 p.m. in order to present the key steps to make a success of this transformation towards BIM and the first associated feedback.
Citae, an innovative consulting and services company to meet the city's strategic challenges, supports many public and private players in their BIM projects.
---
GE BIM CLUB (98, 99)
Two workshops entitled " The management of land and legal data within the digital model », Wednesday 29 at 11:30 am Salle Haussmann, Thursday 30 at 12:00 am Espace Da Vinci.
Otherwise at the stand you can meet a group of 10 firms: Cabinet Pierre Bloy - Serrain & Associé - Foncier-Experts - Robin & Associés - Cabinet Altius - Bonnier-Vernet-Floch - Jocelyne Forest & Associés - Calviac-Blatier & Associés - Dupouy- Flamencourt - Cabinet Lanquetin & Associés.
---
ECARTIP (246B)
The BW 2017 is for us the opportunity to present the scope of our services, from the acquisition of data in the field and the processing of point clouds to the production of georeferenced digital models capable of evolving through all phases of your projects. Our knowledge of the business and our mastery of the entire chain of IT tools dedicated to BIM are the guarantee of a comprehensive and functional offer.
For 20 years now, Ecartip has supported you in the realization of your infrastructure projects on the ground by precise acquisition of topography and efficient execution studies. Today, with BIM, we continue to help you optimize, succeed and manage your projects from design to operation.
---
EUROSIA (213)
Eurosia, already present at the Congress of Expert Surveyors, will present its latest achievements at the BIM WORLD 2017 Show alongside customers Bouygues, Engie,…. in particular in the creation of model, MEP synthesis missions et management BIM for Facility Management. Our team will also show you our latest models and project valuation videos.
Eurosia SA saw strong growth in 2017 and focused on 3D-4D modeling in Architecture, MEP and Structure. We are now more than 100 engineers and model makers, established in Europe and Asia, who support clients in their construction, rehabilitation and facility management projects.
---
FUTURMAP (219B)
FUTURMAP presents, for this first visit to BIM World, these solutions for creating digital models of existing buildings (TQC). We have developed optimized methods to transform your geographic data (Point cloud, pdf, paper plans) as a digital model that can be integrated into BIM processes.
FUTURMAP is aimed at all professionals with the means toacquisitions of 3D data or 2D data to transform them into a digital model and thus facilitate the operation and management of the heritage immovable.
---
GEXPERTISE (240)
Come and discover our products and models: BIM model: Managing the life cycle of a building - Reverse engineering model: Reverse engineering of internal structures - Achi / Structure model: For design and engineering - MEP model: Modeling of fluids - Surrounding model: For the building permit or sale - Study model: Sunshine / visibility / thermal - Plans, surface conditions, ... Certified Surveyor-Expert.
A pioneer in the field of modeling, Gexpertise today develops all types of 3D scanning. Whether for the 3D reconstruction of existing buildings, architectural and museographic conservation, reverse engineering or simulations, Gexpertise generates precise and exhaustive digital models from 3D scanning or existing plans.
---
MAN AND MACHINE (182, 183)
On this occasion, the Expert will present to you in particular his range of services " BIM Ready ", And also the 2017 version of the MuM Building Suite, a set of complementary tools to Revit which allows a faster and more efficient management of your construction projects!
A true center of added-value skills, Man and Machine offers a comprehensive support package to accelerate the development of your BIM projects: audit & consulting, BIM Management services, AMO, secondment of skills, specific training, management of collaborative platforms, deployment of software and hardware solutions.
---
MEDIACONSTRUCT (218A, 219)
So this year Mediaconstruct offers 6 BA-ba workshops free BIM and participates in various conferences directly related to these strategic axes and its actions. Mediaconstruct will award a prize during the CESI Innovation Challenge on 30/03 at 15 p.m. because the training of young people remains a key point in the generalization of BIM in the sector.
---
MULTISYS (64)
MultiSYS presents a workshop Wednesday March 29, 2017 at 14:30 pm "BIM and change management": Observation on the difficulties encountered regarding the implementation of BIM, understanding the complexity of a BIM process, the principles to be adopted to facilitate the implementation of BIM.
Since its creation in 1987, Multisys has supported real estate and construction professionals to face evolving technological and economic challenges by providing innovative responses at each stage of the building life cycle that are as daring as they are realistic.
---
NOVAM ENGINEERING (228)
NOVAM INGÉNIERIE brings together six specialist design offices involved in the fields of construction and development. We will immerse visitors inside 3 BIM models converted into virtual reality making it possible to: facilitate BIM summary meetings between stakeholders - visualize the building before its construction to facilitate upstream decision-making relating to architectural choices, construction processes ...
---
PHASE B (210)
PHASE B offers its clients (public and private) auditing, consulting and support services in the fields of the BIM process and digital mock-up. We intervene as much on organizational and methodological aspects of work as on the relevance of IT infrastructures, whether hardware or software.
---
REFSA (160, 165)
REFSA will present the solutions of virtualization infrastructure to make your BIM and CAD virtual stations accessible anywhere, at any time and from any device (console, tablet, smartphone, pc, etc.). Continuous demonstrations on Autodesk REVIT, Navisworks, Infraworks, Civil 3D, Robot, etc. software with our business experts for all trades, all demonstrations will be carried out in total virtualization.

Leader in France in professional software training for engineering, our demonstrations on BIM World will be based on use cases extracted from training, with REVIT in architecture, structure, fluids, electricity, cases of total or partial collaboration between body of state and courses to develop skills on applied and effective BIM coordination.
---
SITES (223)
Sites exhibits at the BIM World trade fair, in order to present its activities and the scope of its offer relating to the theme of BIM.
An independent design office created in 1984, SITES offers and provides services to monitor the performance and aging of large civil engineering structures. Our main areas of intervention are: energy (nuclear, thermal, hydraulic installations), transport infrastructure, historical monuments, natural environments (dikes, cliffs, etc.).
---
SOCIETY OF GREATER PARIS
This year, SOCIÉTÉ DU GRAND PARIS wanted to join forces with the BIMworld fair in order to position itself as a lasting partner of this event. SOCIÉTÉ DU GRAND PARIS is Executive Partner of the 2017 edition.
For the occasion, the SOCIÉTÉ DU GRAND PARIS, represented by Bernard Cathelain, member of the management board, will speak at a round table dedicated to digital in urban planning. This intervention will take place on Wednesday March 29 at 11:30 am. It will be followed at 14h an conference dedicated to the SOCIÉTÉ DU GRAND PARIS to share our BIM ambitions.
---
SKYNESS (225)
We will present during the BIM our different services of drones for real estate professionals (promotional aerial photos and videos, photogrammetry 3d, thermography...), the different uses (statement ofexisting, valuation of heritage, inspection work, site monitoring, audit thermal….) And the main benefits of drone services for surveyors, developers, architects, communities, social landlords.
With its equipped drones and certified pilots, SKYNESS is an airline of local scouts. Skyness delivers to manufacturers, administrations and individuals points of view that only drones can capture. Its missions range from aerial photography to transforming these images into usable data.
---
On the same subject:
By accepting you will be accessing a service provided by a third-party external to https://www.hexabim.com/