8 minutes of reading time
(1625 words)
BIM seen by manufacturers with Laurent ORTAS at SAINT-GOBAIN and AIMCC | Let's talk about BIM
Your monthly interview series "Let's talk about BIM"resumes again after a short summer break, our friend Jerome Cornu had the chance to meet and interview our guest for this edition Mr. Laurent ORTAS, head of the new prescription technologies department at Saint Gobain and chairman of the BIM commission atAIMCC et AFNOR, well known through its involvement in the various BIM events in France.
We will discover his background, his missions within the group Saint Gobain, we will also discover BIM among manufacturers and suppliers, he will give us his opinion on the BIM objects marketed, he will also tell us about the famous standard PPBIM XP P07-150 recently published and many other points around BIM.

---
Hello Laurent Ortas, you are in charge of the New Prescription Technologies department at Saint-Gobain Habitat, what are the missions of your department?
Our service works for the 24 companies of the group. We are trying to put in place a global approach to data structuring issues, hence Saint-Gobain's strong involvement in standardization work. Integrating the work on BIM seems to us to be a very good support or process of helping prescriptions. Consequently, our mission also touches on questions on how to address product and system information so that they are operational in different software for economists, BETs, architects, etc.
What was your course ?
I am an architect, I then followed a training course with the GEPA on the diversification of the profession in an industrial environment. With several architects from this training we have created, in Toulouse, an industry consulting company on the relationship with the architect, architecture, and prescription assistance, a bit like the Prescrire club does today. 'hui. Weber was one of our first clients. Our approach was to structure their product and system information according to a business issue and in particular the architects. In parallel, we had developed a software for managing the documentation produced for architects and economists. In 96, I met Olivier Celnik. We inserted our database on Batonline, which Olivier had created at the time. Then, I returned to the Moniteur des TP, to work on the transition from paper publication to digital publication on the internet, then I took over the management of the Interbat portal, which was a dedicated building portal created on the initiative of organizations professional. I then joined Isover, as e-business manager to create their website, and their product database for multi-channel operation. At the same time, within the AIMCC, I took over the chairmanship of the digital data reflection committee, we were not yet talking about BIM. When Saint-Gobain created the Habitat branch, because of my activities on data exchange and my participation in AIMCC and Médiaconstruct work, I joined this structure.
We talk very little about BIM with manufacturers and suppliers of building products, can you tell us what Saint-Gobain's approach is?
Saint-Gobain, in France, promotes above all a normative approach, in particular with its involvement with the AIMCC and in particular with the PPBIM project. We believe that the success of BIM requires an "open" approach so that all manufacturers act in the same direction, essential interoperability for BIM, while being able to value their differences. It is essential to have a global approach to products and systems so that they can be valued in analysis and calculation tools.
Today for areas such as thermal, acoustics, fire, the environment, things are framed, but there are still many characteristics to validate so that they are pushed in the model in a uniform manner. It is in this idea that Saint-Gobain is very involved in the PPBIM project.
You have been chairman of the BIM committee at AIMCC since 2004. How do manufacturers in general perceive this BIM revolution?
Manufacturers are attentive, see wait-and-see, of the BIM market. They have every interest in setting up databases to provide as much information as possible that can be used in the model, but above all in the calculation tools. This is also what will push them to be more innovative. This information must be consistent to be usable in BIM. The AIMCC therefore tries to put a global approach in place, so that manufacturers work in coherence, and no longer in divergence. The AIMCC goes through the organizations that are its members to bring its work back down to industrialists.
My training as an architect helps me to have a holistic approach to the design and construction process, whereas in general in the industry the vision is more focused on the products.
There is a debate right now about what BIM objects are provided by commercial companies. What is your opinion on these products?
These items only work imperfectly for the industry part of building materials. Too often they are just beautiful images. It lacks the information that would make these objects really useful for the model but above all a requirements / feasibility approach. A table is an independent object, while a wall or a window are complex system objects that vary according to their environment and requirements and in which several suppliers can interact with different products. As long as we are not at an execution level, the level of precision is too low for us to be able to really position produced objects. in CAD. In addition, most of the time the definition of these objects is the result of calculations outside CAD
The approach is therefore more of a system, but in order to be able to address an industrial system in the digital model it is also necessary that, for example, a wall is at least broken down into Facing / Structure / Facing layers. A thermal insulation system from the outside or a rendering that can thus be addressed to the Facing layer (exterior) and a MOB or masonry system to the Structure layer, etc. These works on generic Object Models are developed in as part of the Product Room of Médiaconstruct.
There is also the question of the detail, when to position and how to transfer the information of the screw, the rail, the glue ... probably not in the CAD but can be in the BIM tools of the economist or of the company. But it is still necessary that this information is a link with the object defined in the CAD
As part of the AIMCC / Médiaconstruct work, we are thinking about how to create an interface that would create a dialogue between professionals on the acoustic, thermal, hygrometric, fire requirements, etc., and the products offered by manufacturers and which would make it possible to have a consultancy or expertise relationship depending on the customer's real need, ie having communicating Objects instead of having Objects like today which are only BIM avatars of paper or web catalogs.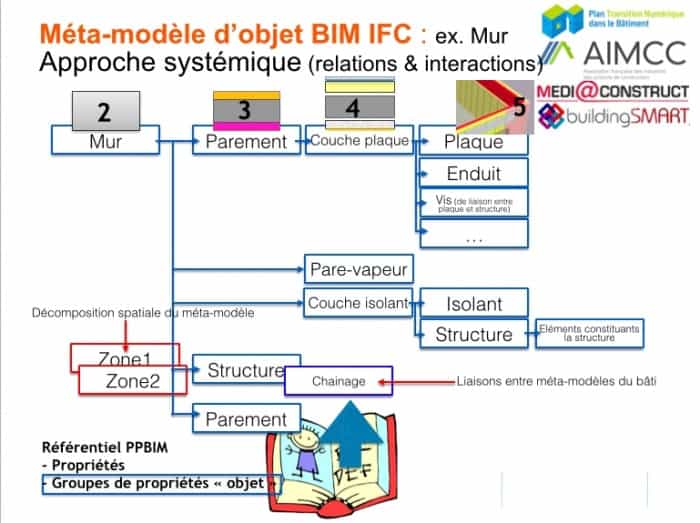 Can you tell us about the PPBIM XP P07-150 standard?
It is a standard of "quality" and "process" method rather for dictionary editors. There are now several dictionaries at European level, the aim of this standard is therefore via this method to bring together all the work carried out at European level and even beyond.
In France we had the DTH dictionary which will be brought up to standard as part of the work of the PTNB and then beyond that should be perpetuated in an associative structure which would welcome the college of experts who will validate the content in accordance with the standard. These experts will come from industry and trades. Generic models of IFC objects, as discussed in the previous chapter, to which the properties defined in the dictionary will be attached could connect to data-catalogs conforming to this same dictionary and generic models of objects and thus offer designers the possibility of compose Multi-vendor Objects as described previously.
I saw that you were part of the CIMBEES collaborative project (design and industrialization of building modules with high energy, environmental and social quality). Coming from modular construction, I am very interested in this concept. Can you explain to us what this consists of, and what is Saint-Gobain's role?
A wood carpenter and an architect launched the Natura concept which they had exhibited in front of the Strasbourg train station in 2012. Following this prototype, as part of an FUI research project, we worked on the development of tools allowing of BIMer this concept of modular houses. The digital model has been introduced, in order to be able to work in an IFC BIM process from the architect's project under Revit, its decomposition under eveBIM into facing / structure / facing layers as explained a few chapters above, IFC export of the structural layers of the MOB system calculations under Cadwork, transmission to the carpenter's digital machines and re-import into the project to recompile the configuration of the different systems and edit the installation plans.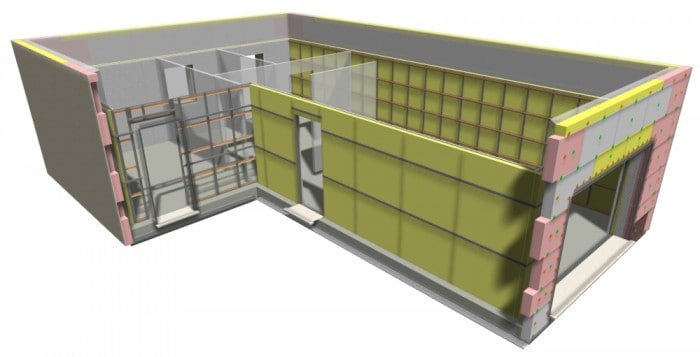 What do you think of the community as virtual as it is real Hexabim?
Today there are several good initiatives around BIM, and as we want to do with PPBIM, it is better to pool efforts, and get closer to the Médiaconstruct blog, to have real cooperation and coordination between all the contributors around the BIM.


---
A big thank you to Laurent ORTAS for having granted us this interview, we wish him much courage for the missions he carries out within Saint Gobain and the entire BIM community.
Happy birthday in the passage to Saint Gobain for its 350 years.

Special thanks Jerome CORNU who provided this interview and who made us discover this personality.

I wish you all a good (BIM) recovery!
Image credit: saint-gobain.com
On the same subject:
By accepting you will be accessing a service provided by a third-party external to https://www.hexabim.com/