5 minutes of reading time
(922 words)
BIM is coming to the Auvergne region with the 5th stage of the REX BIM Tour - RDV November 27 in Clermont-Ferrand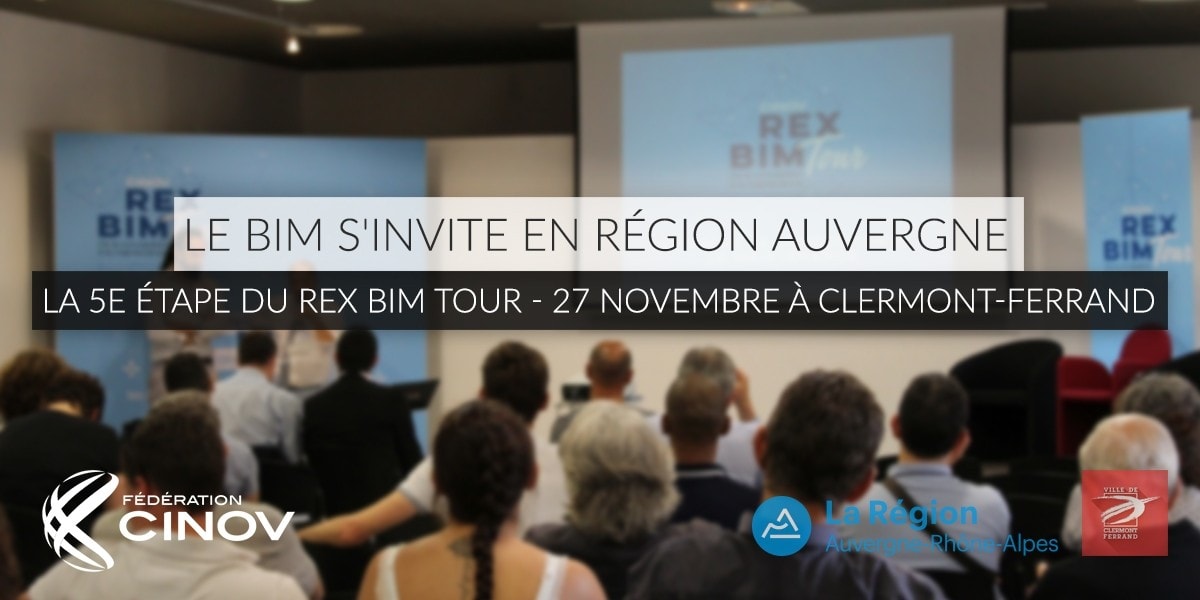 Recently interviewed on the website of REXBIMTOUR, Julien MERCIER President CINOV Auvergne, drew up a "BIM portrait" describing the positioning of his region vis-à-vis the digital transition with the major challenges and needs: "Overall we can consider that Auvergne is in the national average. Companies have realized that a shift is starting but they do not want to invest anyhow. They are moving forward according to their means and market opportunities. The basic problem remains the capacity for investment. The last few years have been complicated and no one wants to dig their grave. The digital transition will take time, it is important that all the players in the construction industry in Auvergne get together around the table to clearly define a common and shared strategy. To this end, we will discuss locally with the other local federations "
In this context, a 5th appointment was given for this November 27 in the city of CLERMONT-FERRAND, the REX BIM Tour will take place in this city with the same aim of offering feedback from projects carried out in the BIM process locally. The purpose of this approach is to demystify, simplify and compare the approaches at all stages of the project, from design to maintenance.
A fairly rich program that spans an afternoon with fairly relevant topics on the basis of feedback obviously, here is the complete program.
---
13h55 to 15h10

The rise of BIM (Building Information Modeling) in the design, implementation and operation of construction programs implies a gradual but profound change in professional practices and the emergence of new skills among all players in the sector. In addition to the new tools making it possible to model, share and follow the evolution of a digital model, it is also the working methods which are evolving towards more collaboration and interaction, between historically compartmentalized professions.

What is the level of maturity and what are the support needs of the various stakeholders? How do players in training, both initial and continuing, integrate the challenges of BIM to help future talents and professionals understand, take ownership and implement the BIM process? What role do publishers play in handling the different solutions, while taking into account the issue of interoperability? To answer these questions, players in continuing education, schools and publishers will debate around this round table.


Gaëlle BAUDOUIN: Associate professor in civil engineering at Polytech Clermont Ferrand, Head of the GP-BIM specialized master's degree.
Gilles CHARBONNEL: President of ADN Construction
Antoine CHATEAU: Auvergne Rhône Alpes Regional Delegate of the OPCO ATLAS
Bruno SLAMA: manager of BBS Slama
Guillaume VRAY: Director France Allplan
Emmanuel DI GIACOMO: Head of Europe Development of BIM ecosystems - Autodesk
Stéphane BERNARD: President of ATTIC and President Building Smart France


15h10 to 15h40

Pilot project of the Auvergne Rhônes Alpes region, the Ambroise Brugière high school in Clermont Ferrand is the subject of a vast program of demolition and reconstruction of its boarding school and extension of its day school. This program, carried out on an occupied site over an area of ​​9 m000, is fully managed in BIM.

Gilles BERETA: Head of the "Management of built heritage and land" unit,
Arthur MONTEILHET: Engineer BIM Manager at CRR Architecture
Thomas NOEL: Thermal engineer at IGETEC


16h10 to 16h40
Delivered in August 2019, the PME, Mutualized Teaching Pole of the Cézeaux university campus in Aubières has had a makeover. This restructuring - rehabilitation program covering more than 10 m000 of surface area was carried out in BIM on the design-construction - operation - maintenance components. Meeting the requirements of thermal regulation "RT global renovation", it achieves a high level of environmental and energy performance.


Janick PROUX: Director of Real Estate and Logistics at Clermont Auvergne University
Loïc BERNARD: Deputy Head of Works Department at Bouygues Bâtiment Sud Est
Julian BRINGOLD: BIM Project Manager at IM 'PACT


16h40 to 17h10
Program of 26 housing units carried out in Open BIM with IFC models, spread over two R + 2 buildings without basement and located in the town of Pérignat (63). The client is Bouygues Immobilier, which carries out this operation in order to deliver it to a social landlord.

Laurent MARCHAL: Manager of the company EDS - Study and Dimensioning of Structure


17h10 to 17h30
As in many other sectors, the companies that make up the engineering, digital and consulting branch are facing a major technological change that is shaking up their organization and traditional patterns. With the assistance of the OPCO ATLAS, CINOV had a prospective study carried out in order to imagine the probable scenarios for the development of the consulting and engineering professions. This work is based on feedback from other sectors and available and future innovations in the branch. The objective is to assess the impacts of digital transformation by identifying potential risks in order to anticipate them and identify opportunities that are sources of value and performance for our businesses.


Michel BERNARD - Member of the BIM WG of the CINOV Federation and pilot of the prospective study CINOV Federation / Concepteurs d'avenirs / OPCO ATLAS
17h30 to 17h35
Conclusion by Julien Mercier - President CINOV Auvergne - Federal Vice President Prospective & Innovation - Leader of the BIM & Digital Transition Working Group of CINOV

---
When? Wednesday 27 November 2019
Or ? Regional Hall 59 Boulevard Léon Jouhaux 63000 Clermont-Ferrand

---
---
HEXABIM is the media and communication partner of the REX BIM Tour event by the CINOV Federation.
Copyright
© HEXABIM, FédérationCINOV
On the same subject:
By accepting you will be accessing a service provided by a third-party external to https://www.hexabim.com/