4 minutes of reading time
(873 words)
Launch of CAMPUS BIM, the 100% BIM skills development platform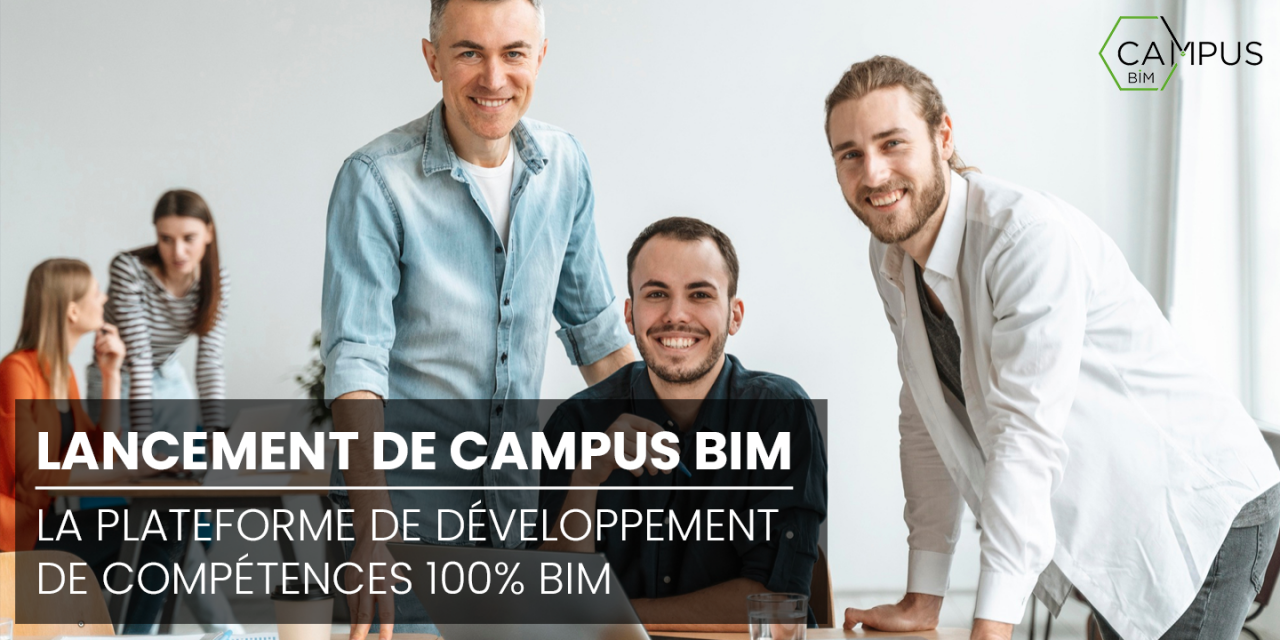 The HEXABIM team is delighted to introduce you its new BIM e-learning platform available since yesterday Wednesday 5 May, an ambitious project which completes the existing training offer today. The BIM Campus was developed taking into account the issues faced by construction professionals around their projects, the need to have Returns d'experience and a manque observed at the level ofinformations practice. Our slogan and watchword: BIM (very) concretely!

A "punchy" teaser has been produced to seduce you :)

---
Who is CAMPUS BIM for?
The BIM Campus is aimed at players in the construction sector working on BIM projects, beginners and experts, generalists or specialists (BIM managers, coordinators, architects, engineers, planners…).
Its objective is to enable them toapprendre and D'deepen their theoretical, practical and technical knowledge around BIM, in order to advance concretely et effectively in their daily projects.
Why CAMPUS BIM?
The diversity of the subjects covered (software, legal, technical, management, etc.) means that Campus BIM embodies a singular and unique platform in the field of BIM, far from generalities and as close as possible to concrete and realistic field experiences.
To facilitate the organization and the rise in competence of each member, the formats have been studied so as to be optimized in terms of time. The masterclasses are divided into several small videos, a written support accompanies the videos. Each user is free to organize his training as he wishes.
Our promise!
Campus BIM wants to offer everyone the opportunity to develop their expertise, to enhance their professional skills by accessing a source of regularly updated knowledge, easily accessible, fun and relevant, allowing development at its own pace on a daily basis.

A unique ultra-specialized platform
Unlike other e-learning platforms that offer general catalogs and generic training around BIM, generally focused on software and solutions, Campus BIM is committed to targeting the BIM leaders of today and tomorrow. , with strong biases never seen before.
Masterclasses

Designed from real cases by the best experts, the masterclasses of the BIM campus address in video the issues and subjects related to the deployment of BIM for professionals in architecture, engineering and construction.
A smooth learning experience "all inclusive"with access unlimited at the masterclasses, new products every month, practical resources : templates, guides, exercises and notes, without forgetting the teaching aids (slide shows and syntheses).
Speakers

The speakers are all recognized professionals in their field, their biography retracing their professional career is presented at the head of each masterclass. HEXABIM relied on its network of more than 22 members and its credibility as a BIM platform in France, to offer masterclasses that meet users' expectations as closely as possible.

For its launch, CAMPUS BIM is offering a catalog of 10 masterclasses available immediately, this catalog will be enriched each month according to the needs reported by members. 10 experts joined us to start the adventure!

The package
Members have access to a set of resources and advantages on the campusbim.com platform:

Unlimited access to masterclasses, with new features every month.

Written materials and summaries complementing each masterclass

Quizzes to self-assess.

Access to resources: projects, templates, models, guides, exercises ...

Access to the forum made up of professionals and participants to discuss and ask questions.
1 to 1 meetings between peers to discuss, ask questions
Themed group meetings to challenge each other.

They will have access to a new section on HEXABIM "REX Club":

REX Files / Articles
Exclusive webconferences
Field surveys and surveys
Forum / Expert group
A spot to present your project or approach
And HEXABIM + which is a set of services deployed on the HEXABIM platform:
Classifieds section

Monitoring of tenders / contracts

Webconfs archives (replays)

Access to local groups

private messaging

Partner discounts (solutions, books, ...)
membership
The platform is accessible via a subscription system (monthly / annual) with an introductory offer giving access to the entire package mentioned above for a period of one year for 499 € HT instead of 699 € HT. The icing on the cake, this rate will remain the same for you during the renewal, regardless of any subsequent price changes, which may be revalued with the development of the platform.
For companies and organizations wishing to register their employees an offer multi-user is available with a few advantages as well:
Decreasing prices (up to € 299 excl. per access and per year)

Flexible management of registered employees.

Monitoring of progress and activity.

Highlighting on HEXABIM (via interviews) to promote the expertise of the company.

Exchange group within the platform
More info on multi-user access here.

The introductory offer is only available for a limited time until May 12, from the 13th the prices and packages will no longer be the same.

Discount coupon 200€ to use: EARLY200

For multi-user access: BIMTEAM

---
---
On the same subject:
By accepting you will be accessing a service provided by a third-party external to https://www.hexabim.com/