5 minutes of playing time
(919 words)
Graitec BIMUP conference with Gildas LEROY: 170 free sessions around BIM Management, collaborative modes and software solutions BIM - 8, 9 and 10 October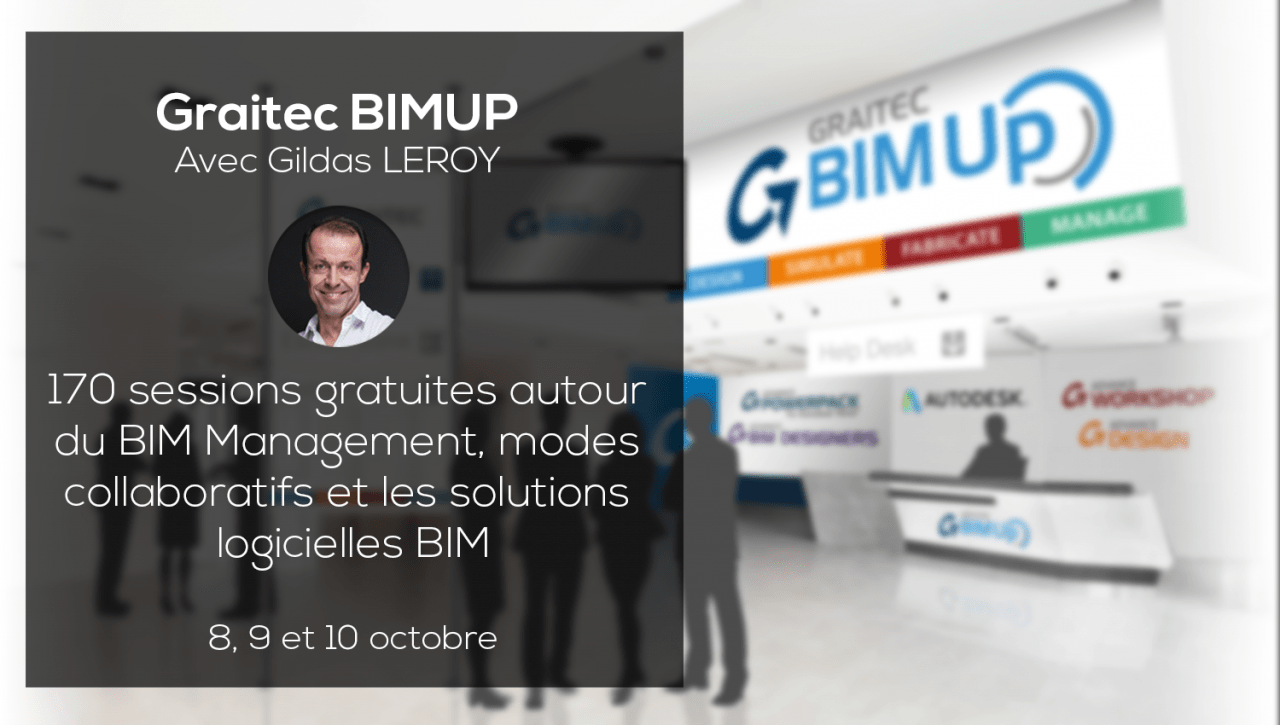 On the occasion of the BIMUP digital conference that will take place the 8, 9 and 10 next October, our editors had the chance and the pleasure to talk with Gildas Leroy, GRAITEC's France director who organizes the event. The opportunity for our readers to learn more about the topics and organize themselves to follow the sessions that interest them according to preferences and schedules.
---
Hello Gildas Leroy, you are the director France of the group Graitec, you are organizing soon a dematerialized international conference around the BIM and its uses, could you tell us a little more about this event?
The digital conference BIMUp aims to share with the greatest number the feedback and good practices of adoption of BIM in design, simulation and manufacturing. During 3 days, participants will be able to follow free of charge 45 minutes of their choice, including the detailed agenda You can consult it by clicking here.. Thus, they will be able to continue their normal activity between sessions while benefiting from the rich content presented by Graitec consultants and trainers from France, all over Europe, Russia and North America. 3000 participants are registered on the MOOC platform for this conferencing benefit.
What themes will be discussed during these days? Who are we talking to?
The sessions focus on BIM Management, the trends collaborative and the software solutions to deploy the BIM. They are addressed to architects, engineers, BIM Managers, BIM Coordinators, project managers, and to all construction professionals involved in BIM collaborative processes. They will be delivered in 7 languages ​​on 5 time zones.
Should you be a user of your products or services to take full advantage of these sessions?
Graitec invests heavily in the promotion of BIM in France, Europe and North America, with physical meetings such as the GREEN DAY at 22 October in Paris, and digital meetings that reach the largest number. These sessions are open free of charge to all professionals in the sector.
+ 170 sessions are scheduled during these three days and it's huge, what are your tips for enjoying the topics we are interested in? Will these sessions be recorded for future reference?
The sessions are delivered by Graitec experts. In about 45 minutes, the goal is to provide maximum knowledge and feedback. Participants will discover new topics that can help them accelerate their adoption of BIM. They will be able to review some fundamentals on solutions they already use, or discover new software that will allow them to be more efficient in the use of Revit, BIM360, computing solutions such asAdvance Design or Arch, or to project new collaborative approaches in order to be better equipped for their future BIM projects.
These sessions will be broadcast during these 3 days for free to all audiences. They will be registered and provided for free consultation for all Graitec Advantage customers who can use the rich content as often as they want.
Far from exciting speeches, how do you find the deployment of BIM in France? Does it really advance compared to 5 neighboring countries for example?
France has adopted BIM later than its Anglo-Saxon neighbors. The NBTN - Building Digital Transition Plan - and then the BIM 2022 Plan demonstrate a strong desire to accelerate the digital transformation of the Building and Construction sector. France has opted for a strong incentive to implement BIM, without imposing what would be a "BIM suffered." Today, France is among the leading pack in Europe. After the sometimes too good promises, and the first disillusions, we have entered a phase of maturity of implementation of BIM, which we see in contact with projects and through initiatives that Graitec supports as the Competition BIM whose edition 2019 is particularly. The adoption of BIM in France is today less dogmatic and goes through the definition of more realistic objectives. The "BIM chosen" is a chance for France. Its deployment is accelerating because the actors see real benefits.
Our role as a professional is to be a catalyst for this adoption. Assist each organization, regardless of maturity, to set realistic goals for deploying BIM, and to provide them with best practices appropriate to their context. We have named this approach "BIMUp", an innovative methodology integrating all the know-how of the Graitec teams, resulting from hundreds of field projects across all territories. The 8 digital conference at 10 October aims to share this experience.
---
---
About Graitec
Founded in 1986, GRAITEC has established itself on the construction market as a BIM partner for architects, engineering firms, building owners and builders. Publisher of high value-added BIM solutions for design, calculation, simulation, and manufacturing, and 3e global partner Autodesk® in Europe and North America, Graitec is present in 50 agencies spread across 13 countries around the world . GRAITEC's mission is to support the digital transformation of its customers by offering software solutions, consulting and training in the field of BIM. With 550 employees, including more than 250 BIM consultants, GRAITEC is focused on innovation whose products are used by more than 100.000 construction professionals around the world.
For more information : fr.graitec.com