7 minutes of reading time
(1409 words)
Focus Innovation at MBAcity: Usage data, Generative Design, BOS, vision and ambitions with Roland Le Roux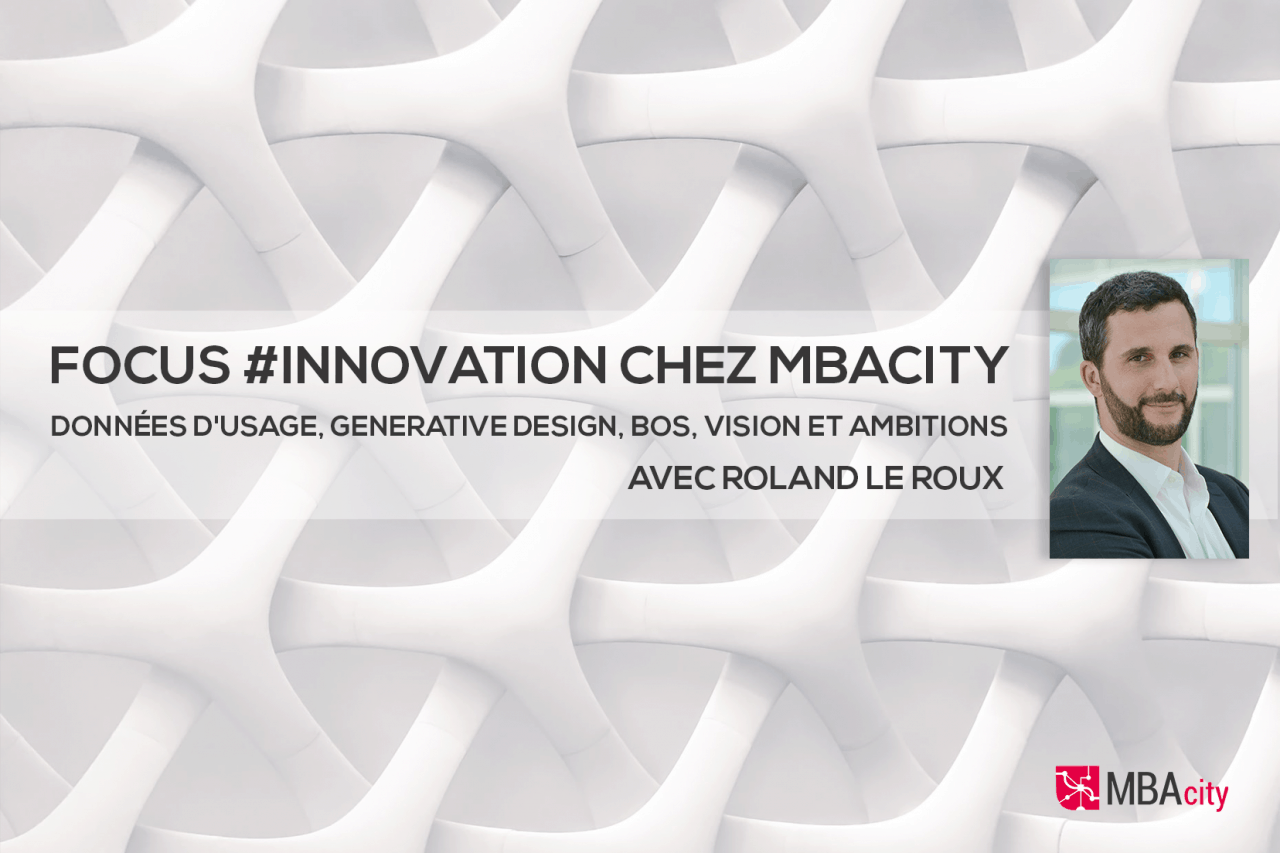 HEXABIM had the pleasure of interviewing Roland Le Roux, an inspiring and passionate personality, President of Citae et MBAcity. A driving force behind BIM in France, MBAcity aims to support construction industry players in their digital transition.
Through this interview, Roland Le Roux sheds light on the development of BIM in France and the challenges for professionals in the sector.
---
Roland Le Roux, what is your background?
I have an engineering course which very quickly focused on building and energy performance. After studying at the École Centrale de Lyon and at KTH (Swedish university renowned for its programs related to the environment and energy), I went to the United States as part of an internship and quickly got there created a company with two partners. I returned to France in 2011 to join Elan, a subsidiary of Bouygues. Within Bouygues Construction, I then took the reins of Open Innovation, and participated in the creation of a corporate venture capital fund whose ambition was to support construction and real estate startups.
In 2018, I joined Groupe BTP Consultants as President of Citae and MBAcity. Citae is a company specializing in project management assistance on the themes of the environment and uses and in real estate diagnosis.
---
MBAcity is registered as a builder of usage data. What is usage data and how does it relate to BIM?
Usage data is all the data associated with a project that each person provides for the specific use of their profession. From the initial investor to the end user, including the town hall which grants the building permit, the contracting authority, architects, design offices, construction companies, etc. Each stakeholder has a specific need for the data, with different priorities depending on the phases of the project. BIM brings together all of this information and makes it possible to efficiently use all this data.
However, we must not fall into the opposite excess of wanting to collect too much data, especially the less relevant, and find ourselves drowned in a flood of data. You always have to ask yourself "What is this data going to be used for?" "," Will the investment necessary to obtain and make available this data be useful and profitable? ".
---
What is MBAcity's vision around BIM?
We use the digital model as a visual support for geometric data and as a container for other types of data (metadata). The most important are ultimately the data it contains and how to use it. They are the ones who bring the most added value to a project. This information ultimately enables good management of the building throughout its life cycle, in particular for operation and maintenance. While 75% of a building's value chain is recorded after receipt of the works, from the start of a project we think about its operation by keeping the end user at the heart of our thinking.
The DNA of MBAcity is the quality of the service we can provide. We adopt an advisory stance that listens to those involved in the building industry and supports them in defining their needs, in particular by offering them optimization or automation solutions.
---
What is your current perspective, as well as your prospective vision on the building sector?
The construction world is experiencing upheavals, linked to the COVID-19 health crisis and the drop in the number of building permits granted by town halls. These factors are leading to the postponement of certain major projects and will continue to impact the market for the construction of new offices in 2021, and probably in 2022. However, this will lead to other more promising developments: working methods are changing, teleworking is developing, office spaces are increasingly optimized, logistics are being transformed, etc.
BIM has a very strong card to play in all these developments. In addition, the BIM market is doubling every 18 to 24 months.

by author
The major players in the construction industry, in particular general contractors, have adopted BIM and frequently use it in their operations. For large projects, with high technical or architectural complexity, it has even become the standard. A transformation is also underway on the smallest projects and we see that the architects and technical design offices are equipped internally or externally.
---
MBAcity has participated in emblematic projects. Can you tell us more?
With Bouygues Immobilier, we are currently invested in the Charenton-Bercy project, where we are implementing a CIM (for City Information Modeling) approach, that is to say BIM on a city scale. This is a highly complex technical and architectural project with more than ten buildings to be constructed, including a 180m tower, which brings together many players. As a result, there is a whole orchestration work in order to facilitate the exchanges and allow the good exploitation of the numerous data.
At this time also, our teams are working alongside Egis and carrying out the BIM execution summary on the Eole project - extension of part of the RER E - which is part of the Greater Paris area. It is a technical project which illustrates the contribution of BIM and usage data by allowing different trades with strong regulatory and constructive constraints to easily exchange and coordinate.
Another emblematic project in which we have worked and which was completed more than three years ago is the Paris-La Défense Arena stadium. We operated the BIM synthesis and BIM management within the Vinci teams, and carried out roof optimization work using Generative Design.
---
What are the challenges of MBAcity for the next 5 years? What will be the promising niches?
Over the next few years, MBAcity will continue to develop, recruit and open new branches and, through the increase in our projects abroad, we intend to gradually establish ourselves outside our borders.
In addition to always maintaining our sense of service and remaining a trusted partner for our customers, one of our goals is to push our use of Generative Design even further. Today we use it for the optimization of car parks with PARKYZE, a solution that allows to generate parking configurations that comply with regulations, to optimize the number of spaces and to reduce the cost of work. Tomorrow, we will likely apply this technology to the entire design of the structures.
---
BIM is constantly evolving and we must work to continue to democratize it and make it much more efficient for all stakeholders.

by author
---
Thanks to Roland Le Roux for answering our questions!
On the same subject:
By accepting you will be accessing a service provided by a third-party external to https://www.hexabim.com/