13 minutes of reading time
(2694 words)
BIM & Digital Special at BATIMAT 2019: news, innovations, conferences, workshops, solutions and startups [File]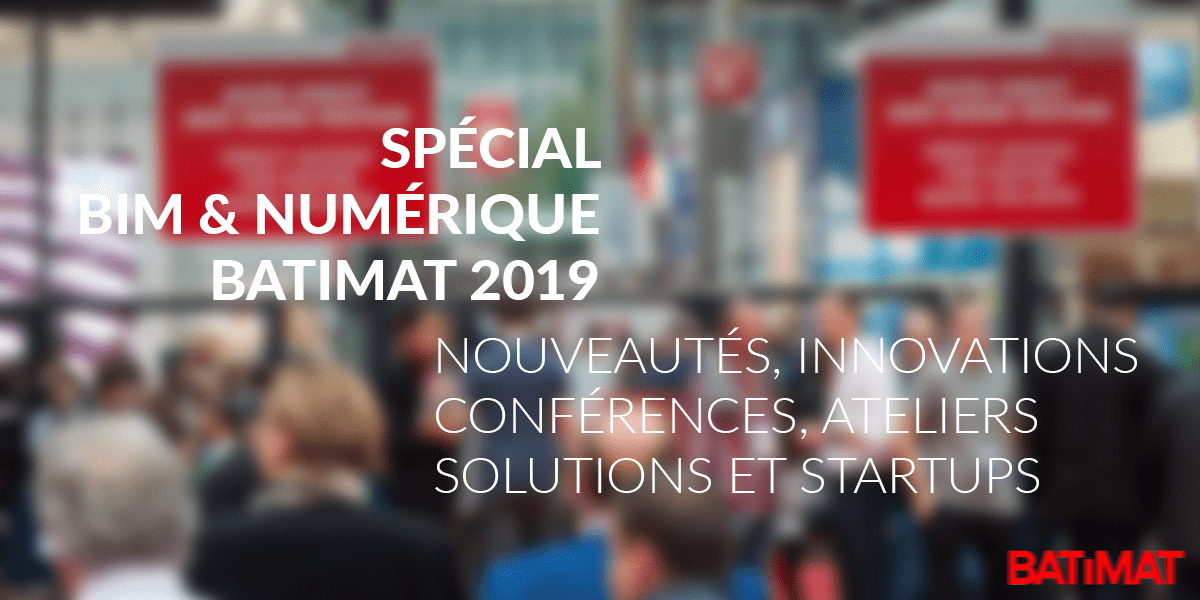 After two years of waiting for the international building fair BATIMAT finally arrives, from 4 at November 8 and still in Paris Nord Villepinte. A little richer than the previous edition in activities around BIM and digital, this year we find the initiative Conctruction Tech for example, the Innovation space and the FFB digital space, a few conferences geared towards digital transition as well. Many partners will be present with a lot of activities and novelties!


Here is our recap for this year, you will find all the news from HEXABIM partners, BIM & digital conferences & workshops, space activities
BATIMAT innovation and
space
digital FFB
and finally the Tech construction with many startups present.
Do not forget to let us know about other activities that you deem interesting in the comments!

---
1. Not to be missed news from our partners


AC Environment
HALL 5B-N 17
Making buildings intelligible is the vocation of AC Environnement, diagnostician and expert in technical, economic and environmental data on buildings. To make it possible to restore data that is reliable, readable, understandable, accessible, shareable, opposable and evolving over time, the AC Environnement group is committed to BIM applied to existing real estate assets: in addition to regulatory diagnostics, AC Environnement carries out the digital avatar of your buildings and provides its CN BIM platform to optimize predictive management and maintenance. The group's services thus allow companies to meet their legal obligations with confidence in real estate transactions, during demolition / construction work and in terms of risk management, starting with health at work or in the home.
---
Atlancad
HALL 5A-N088

The Atlancad team will be present at Autodesk Hall 5A booth - booth N88.
We will of course present the 3D modeling and design solutions Revit, Inventor, Navisworks, Robot, etc. But also our face-to-face and online training.
NEW - we now offer virtual classes. Online training on specific features of Revit and Inventor software and on BIM. They are facilitated remotely by an experienced trainer. All you have to do is make an appointment and log in at the chosen time and day.
our BIM consulting services (BIM management, AMO, training, etc.)
our business software developed to meet your needs (Revlib and Dyn'apps)
---
SHEET
HALL 5A-P094

Recognized for its expertise in climatic engineering and its calculation software, FISA presents for BATIMAT a new range of "OPTI" solutions to optimize the use of Autodesk © Revit ©. The result of close collaboration with our customers, OPTI makes it possible to easily size the aeraulic, hydraulic and sanitary networks for their BIM projects. OptiEvac, OptiPluv et OptiSheaths are available in independent version or included in a Fisa-BiM HVAC pack to associate the calculation with the layout in the digital model of the building. To discover them, meet from November 4 to 8 at the stand FISA P094 hall 5A and the Agora at the Autodesk booth on Thursday, November 7 at 11:30 a.m.
---
Leica Geosystems

HALL 5A-P096

On the occasion of BATIMAT 2019, Leica Geosystems, a subsidiary of the Hexagon group and world leader in measurement technologies, is presenting a wide range of solutions to support the market in its digital transformation. New 3D laser scanners, measurement and layout tools, etc. Leica Geosystems hardware and software solutions stand out for their precision, performance, ease of use, and the time and productivity savings they bring. Among the novelties to discover, the solution that won the innovation prize of the show and the latest products announced in September and July, presented for the first time in France.
---
RHINOFORYOU
Hall 6 Space A001 Construction Tech 60 stand

The company will present innovations / novelties around Rhino on Batimat:
New version of RhinoArchitecture*: our flexible, alternative and affordable BIM solution
New technology Rhino.Inside : the whole Rhino / Grasshopper environment inside many software (including Revit)
New plugin Lands Design for Architects and Landscape Designers
New plugins RhinoCity, RhinoSolar, RhinoCapture et Rhino Terrain : for the actors involved in the issues of the City, Urban Planning and land modeling (exceptional performances on Thursday, November 7)
New version of Rhino v6, Grasshopper, Karamba (calculation software) ...
IFC & Tekla Connectors from our long-standing partner GeometryGYM
---
Trimble solutions
HALL 5A-N078

Trimble presents Tekla BIM solutions for structure at Batimat.
Tekla Structures and Trimble Connect are at the heart of the design and construction process. They are based on the free flow of information, realistic models and collaboration.
Trimble will also present Trimble XR10 with HoloLens 2 : construction helmet which brings mixed reality to the field and which allows workers to safely access model data on site.
---
WiseBIM
HALL 6-G044

WiseBIM will once again be present at BATIMAT to present its solutions at the FFB Digital Space (Stand G044 - Hall 6) on Wedredi November 6, 2019 between 11 a.m. and 12 p.m. As a reminder, WiseBIM is an innovative startup that supports asset managers in their digital transition to BIM. WiseBIM's solution, based on artificial intelligence, automates the generation of BIM models from existing architectural plans for digitization ten times faster than with conventional methods.
ATFF
HALL 5A-P094
ATFF will be present at the BATIMAT show and will present its services dedicated to Reality Capture and 3D laser surveying. Starting from the air thanks to photogrammetry, via the static and mobile survey, ATFF will help you in the realization of your projects by documenting the existing one and by allowing you to follow the progress of your construction. ATFF will also present to you a unique platform for making point clouds available, in order to facilitate the work of ITs in integrating them into the workflows of BEs and architects. This platform is a real breakthrough in the adoption of point clouds, making it easier to share them.
---
Arkance-Systems
HALL 5A-N088

New this year, discover Holixa!
HOLIXA, our development department, uses the power of Autodesk's FORGE cloud and integrates within your structure a personalized tool for measuring the performance of your production site. Our team materializes the IOT and brings together
all of these data - tool performance, occupancy rates, load rates, etc. - on a single, centralized digital model.
---
BIMTECH

HALL 6-F036

BIMtech invites you to (re) discover its latest process and technological innovations on stand F036, Hall 6 from November 4 to 8, 2019 at the Batimat trade fair.

We will present to you our latest LIM / CIM projects, our advances in operational BIM and the tools implemented in our digital strategy missions. Our team will be available to discuss your BIM issues and digital models and discuss the challenges that the site of the future has in store for us.
---
BIM & CO
Hall 5-P034

BIM & CO
is one of the world leaders in
product data scanning
for the construction industry. The company will present its Onfly solution, intended for construction players working in BIM. It is a platform allowing the teams of a construction company or a design office to
directly edit the data of their BIM objects online
and
collaborate around a private BIM object library
, centralized and harmonized.
---
CATENDA
HALL 5A-P118

Catenda is a Norwegian start-up which has developed an open BIM collaboration and project management platform called Bimsync. Bimsync allows all the actors of a construction project (Project management, Architectural firm, BET, BIM Manager, Project management ...) to collaborate together on a single tool for increased efficiency and reduction costs and energy impact. The Bimsync platform connects data, tools and people to each other during all phases of a building's life cycle. Bimsync is now used by more than 500 companies around the world, including the largest French construction groups such as Bouygues, Vinci, Egis and Legendre.
Find the whole Catenda team at Batimat 2019 on its booth Hall 5A / P118 to discover the new features of Bimsync!
---
ITGA
Hall 5A - 078

ITGA supports professionals in the asbestos sector in the digital transition of their profession through high added value services for project management such as OP3D dedicated to 3D models and BIM in existing ones, and BatINBOX for management peace of mind regarding asbestos-related regulatory obligations.
ITGA will be present at the Batimat fair of course Hall 5A - Stand 078 with Trimble.
---
MAGICAD

HALL 5A-P058

MagiCAD invites Intech to our booth in Hall 5A booth P-058 all week for live demonstrations. We offer presentations of new features on MagiCAD 2020 and we will show all that MagiCAD brings to Revit and AutoCAD users.
On Wednesday we will also be on the Autodesk stand where Lenny MARIE LUCE and Guillaume DUBOC will present MagiCAD on Revit all afternoon on the "Eye Catcher". Lesley KIERNAN will present on the Autodesk Agora on Wednesday at 15pm "Ready to benefit from BIM: What MagiCAD brings to Revit users".
---
SOC Informatique

HALL 5A-R096

SOC Informatique will take advantage of the BATIMAT trade fair to present the new features of its software suite:
The latest version of DeviSOC, written parts software, integrating in particular the Bati CCTP library for editing CCTP and DPGF
BIM encryption methods from an IFC or directly from REVIT
The gateways between infrastructure / VRD software and study documents.
Conferences will be organized throughout the week, in partnership with the companies Geomensura and Geomedia.
---
Trimble Buildings
HALL 5A-N078

Trimble Buildings will be present at the 2019 edition of Batimat. We look forward to seeing you at Hall 5A Stand N078.
Trimble MEP will provide live demonstrations of 3D MEP CAD solutions
To simplify the MEP workflow for its customers, Trimble has developed several new features in its 3D BIM Trimble Nova 15 and Stabicad 12 CAD software, while also populating the MEPContent content library.

Trimble FTG will have a corner dedicated to the actual implementation of solutions dedicated to construction sites
By taking advantage of cutting-edge technology, Trimble FTG offers significant productivity gains to users on the job site and in the office. Use the digital BIM model wherever you are.
---
2. Conferences and workshops
TUESDAY, NOVEMBER 5

10h to 12h CementLAB workshop: industrialization and digitization of the site. Start-ups will pitch on the site of the future: Hiboo - Révolubat - DCbrain - Ermeo - WizzCad - AOS - Dispatcher - Clovis - Gray matters, and CementLAB will host the Construction 4.0 Chair of Centrale Lille in its session. >> Stand ByBETON Hall 6 - Stand G108
16h00 to 16h30 BIM objects and semantic needs, the BOOST Construction project supported by the CSF IPC > Rémy Lannoy, CERIB. >> Stand ByBETON Hall 6 - Stand G108
WEDNESDAY 06 NOVEMBER

10:00 p.m.> 13:00 p.m. Symposium " For a Big Bang in energy renovation »How to combine energy transition and

num

eric | Moderated by Alain Kergoat, SBA with the participation of Olivier Gresle (Engie), Julien Vandewalle (Sergic) Philippe Rifaux (FFIE), Guy Lacroix (SERCE), Marine Carrat (Action Logement), Thierry Chambon (CEO Energisme), Sébastien Delpont ( Greenflex), Christelle Aroule

(Schneider Electric), Jean-Luc Delseray (Vertuoz) and Emmanuel François (SBA)

>> FORUM BUILDING HALL 6Stand C72
10h30 to 11h The Viliaprint project, 5 concrete 3D printing houses in Reims. > Alain Guillen, XtReeE >> Stand ByBETON Hall 6 - Stand G108
THURSDAY 07 NOVEMBER

13:00 p.m.> 13:45 p.m. The process

Tim cim

Bim

| By

Lionel Blancard de Lery, UNSFA

>> FORUM ARCHITECTURE / HALL 5A Stand K 115
14:00 p.m.> 14:45 p.m. Le

BIM

at the Ministry of the Armed Forces : from experimentation to completion "Deployment of the first tools within the SID network" | By Emmanuel JARDEL, Chief Military Infrastructure Engineer (IC2MI) and Thibaut DELVAL, CSTB. >> BUILDING FORUM - HALL 6Stand C72
FRIDAY, NOVEMBER 8
12h00 to 12h30 Construction 4.0 Chair The act of building and the corresponding trades are in full transformation: Industry 4.0 includes digitization in the entire value chain of the act of building. >> Stand ByBETON Hall 6 - Stand G108
12h30 to 13h00 3D printing: Do it Yourself! A look back at the experience of the Lycées Livet and Appert, which offer their students the opportunity to build a concrete 3D printer. The construction of the future is being prepared today, with young people and high school teachers. >> Stand ByBETON Hall 6 - Stand G108

---
3. The FFB Digital Space
For this edition, the Federation wished to be widely present in three areas: the FFB stand, Meilleur artisans de France (RMC stand) and the FFB digital space.
On the FFB digital space (hall 6, aisle G, stand 44):
---
4. The Construction Tech initiative
In Hall 5A / 6 the new sector Construction Tech® will bring together a wide range of solutions for the connected building. This new sector of 4500 m², located in the intersection of halls 5A and 6, aims to serve the acceleration of innovation in the sector. It will offer: a Construction Tech ® Demonstrator of 400 m², a 3D house & robot demonstration area, a start-up pitch area, a Gimélec Collective area, an Impulse Partners activity area and an SBA R2S area
The 70 architecture and building start-ups will be staged in an experiential and immersive space spread over several thematic:
Building & House Tech: Smart Home and Smart Building : 360SMART CONNECT, AOS, BATI PRINT 3D, BRICKS, CEBATEC, FENOTEK, IGLOOHOME, INNOLIFE, METAL DESIGN ILLUSTRATOR, OZEO, PROTECTO SAS, RHINO FOR YOU, SBS NODE, SMARTHAB, WHILE ZERO
Green Tech: sustainable and efficient solutions: CYCLE UP, L'OMBRAGÈRE, MATERIOPRO, PRO T CO, UP4GREEN, URBAN CANOPEE
Operation Tech: the site of the future: ALOBEES, ALTAROAD, BIMBIRD, CHANTIERASSIST, CONNECTICA SECURITE, DALUX, ENLAPS, FUTUR MAP, HIBOO, JUNGLE VR, KRYOLE, ROBOTILE, SAFETYBIM.CENTER, SCAN DRONE, TIMETONIC, XP DIGIT (XXII GROUP)
---
5. Innovation area & Pitches
22 minutes to discover 11 solutions digital during these time slots: MONDAY 11:50 / TUESDAY 14:30 PM / WEDNESDAY 15:50 PM / THURSDAY 10:30 AM / FRIDAY 15:1 PM0


ALLPLAN [HALL 5A - N068] ALLPLAN BRIDGE 2019-1, the BIM solution for bridge construction
ALOBEES [HALL 6 - A001] ALOBEES, the web and mobile site monitoring app for BT SMEs

P

LESSCHER BUILDINGS.COM [HALL 6 - G102] TOLESMOINSCHERES.COM, the first e-commerce site for sheet metal and metal supplies
DISPATCH - REDWIT [HALL 6 - C008] DISPATCHER TRACKERS IOT, the solution to monitor the position and activity of machines in the field
DIVALTO [HALL 6 - E037] DIVALTO WEAVY, the connected CRM software platform for maintenance and after-sales service
LSE [HALL 6 - G055] LSE MOBILE PORTAL SAV, the after-sales service management module for the construction industry
LEICA GEOSYSTEM, PART OF HEXAGON [HALL 5A - P096] LEICA BLK3D, the solution that captures every image with a complete and precise recording of 3D measurements
PROCAL [HALL 5A - R068] CAL3D, the 3D CAD software for the building envelope (layouts and cladding
RABEL SYSTEMS [HALL 5A - F122] ENVELOP 3D, the facade platform capable of integrating all types of openings, screens, guardrails and fi xed parts
REYNAERS ALUMINUM [HALL 5A - D034] AVALON, the virtual reality room that allows you to explore architecture
WASTEBOX [HALL 6 - J113] WASTEBOX, the application to connect waste producers and collection and treatment providers
---
If you do not yet have your badge for BATIMAT, do not hesitate to comment on your request to receive invitation codes!

On the same subject:
By accepting you will be accessing a service provided by a third-party external to https://www.hexabim.com/