4 minutes of reading time
(878 words)
Construction professionals: 11 avenues for training in BIM #Guide # Synthesis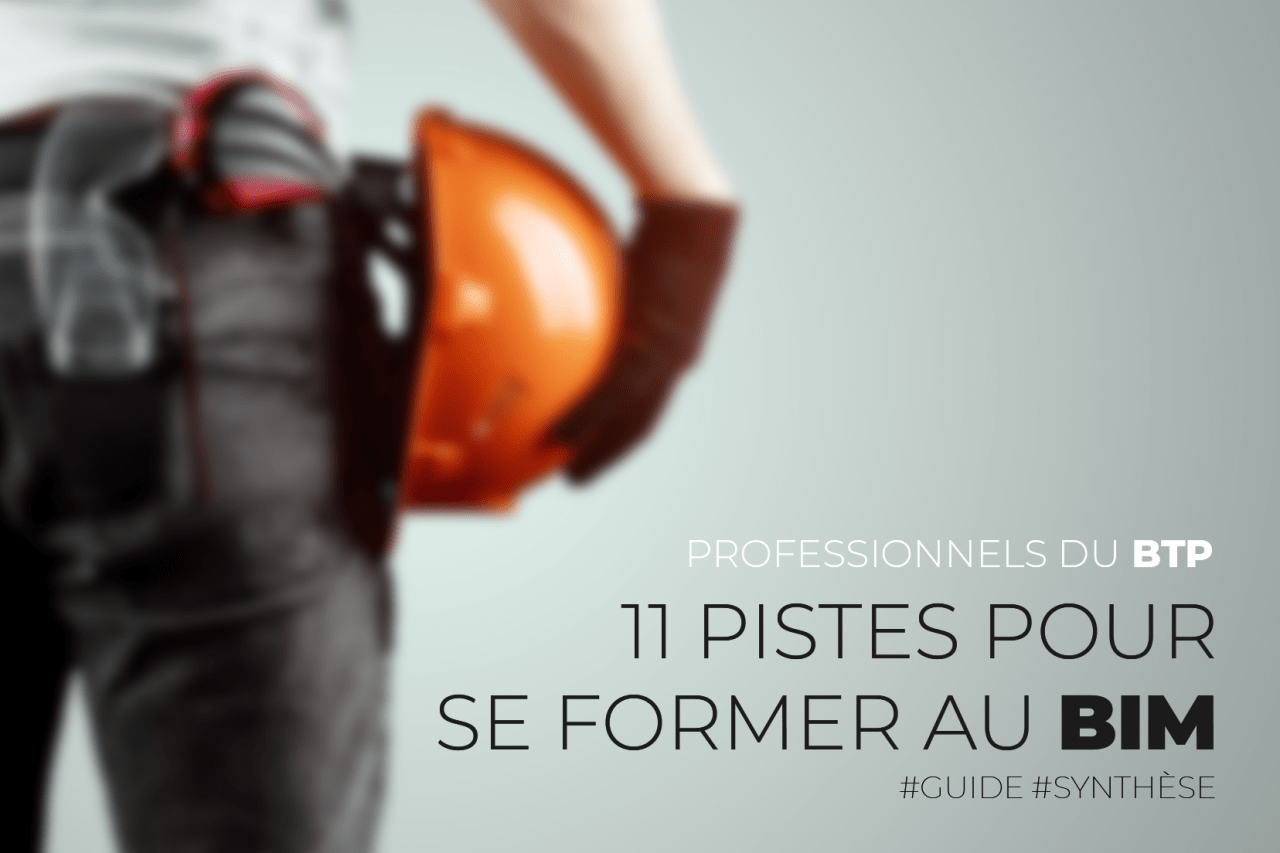 Training in BIM has become essential and there are different types of training: LMD type training and engineering schools, training for employees and managers etc ... which offer diplomas at all levels and which we are in the process of collect to give you a vision of the panel of BIM training offers with their specialties (BIM Management, digital models, etc.).

Do not have any complex in entering into a BIM process: whether you left school benches very early, or you are not comfortable with the computer, you are all capable with will and motivation. There is no shortage of courses for beginners in BIM!

A brief overview for this first section devoted to BIM Training on training opportunities in line with its status, availability and objectives.
This first article dedicated to training aims to give you examples of training provided, The list is non-exhaustive.

---
---
As professionals, business leaders in the construction industry, adults in retraining or job seekers: there are ways to transition to BIM by training to acquire the necessary skills:
For craftsmen, construction professionals, managers / buyers of construction activities:

(4) The Chambers of Trades and Crafts
(5) The FFB - French Building Federation (with its site dedicated to BIM www.ffbim.fr)

(6) The federations professional.

The CMAs, the FFB and the FPs offer BIM information and training sessions in the regions (contact the federation on which you are geographically dependent).

(7) Training in BIM processes within the framework of a project, of a team with, for example, the BIMplement project, financed by theUE, including "the realization of training in BIM in the workplace, intended for craftsmen, team leaders and journeymen, (in particular VSEs / SMEs) so that the digital model becomes a tool to support achievement of construction quality ". More info on https://www.bimplement-project.eu/ (select "French" at the top left for reading).
For professionals, managers of construction companies, adults in retraining, job seekers:

(8) CNAM – BTP

Un renowned establishment open to all socio-professional profiles for training in BIM: The National Conservatory of Arts and Crafts - BTP department offers a whole range of training courses on BIM, whether (non-exhaustive list).

CNAM - distance learning:

> Certificates of establishment:

CNAM Certificate in Construction Technology.

Professional CAD and BIM certificate.

BIM referent competence certificate.
> RNCP Titles such as:

The professional title of Building and Public Works Studies Designer, whose objective is a mastery of the fundamentals of construction and digital model software.
CNAM - work-study training:

Professional licenses such as:

Professional license in construction economics and BIM project management.

Professional license specializing in construction trades: Building and construction Path Design office and BIM project management.
CNAM - engineer training:

Engineer diploma in construction, digital and environmental transitions course, in partnership with IF3E. "Objective: Train general building engineers trained in the implementation of the design process and digital project management (Building Information Modeling or BIM) among the various players in construction, on the one hand, in information technologies and communication applied to building uses (smart building, data processing, etc.), on the other hand. "

The complete and detailed offer of CNAM training can be found on the CNAM - BTP website: http://btp.cnam.fr/

(9) AFPA:

AFPA offers distance learning BIM Building Modeling, validated by the professional title registered with the RNCP. Other center and distance training to consult on the AFPA website: https://www.afpa.fr/

(10) GRETA:

With among others:

Training: Digital model of the building - BIM: Building and Modeled Information.

BIM project management.

The Professional Title of Building Studies Technician in Project Design.


GRETAs are divided by academic regions. For Île-de-France, see: http://www.greta-iledefrance.fr/


(11) DU - University Diplomas / For all profiles:

Note the DU BIM Technician from Gustave Eiffel University (formerly UPEM), which has the particularity of being open to "anyone who has left the education system, whether they have graduated from secondary or higher education without age conditions.

There are no prerequisites, only knowledge of French for reading and writing is essential. "

For more information on this DU: http://www.u-pem.fr/formations/loffre-de-formations/les-diplomes-universitaires-du/diplome-duniversite-digital-u/technicien-bim-building-information-modeling/

---
What route did you take?

A type of training escapes synthesis? Do you have one?

Do not hesitate to comment !
On the same subject:
By accepting you will be accessing a service provided by a third-party external to https://www.hexabim.com/