26 minutes of reading time
(5152 words)
BIM World 2017: More than 100 BIM solutions for your projects!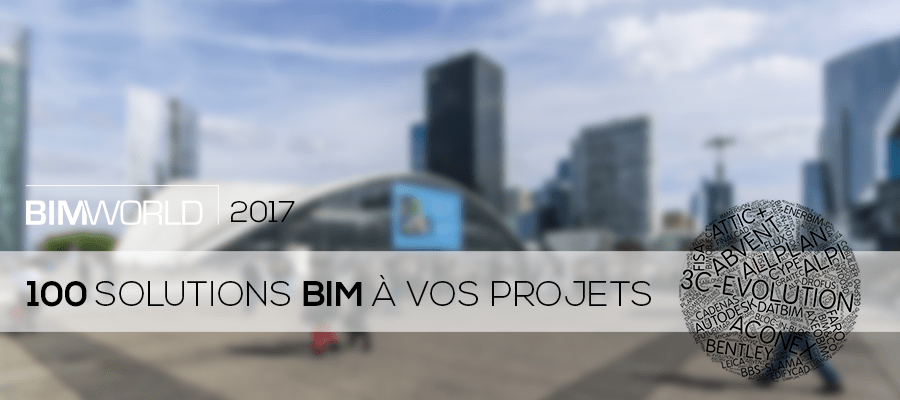 The BIM World trade fair opens its doors in a few days and it is already the 3rd edition! This is probably the most anticipated event after BATIMAT, by BIM professionals but also the entire construction sector concerned by the digital transition which is advancing at two speeds as highlighted The monitor.
Lots of news this year in terms of software, services and hardware products, if the account is good more than 100 solutions will be presented at the show!
Many announcements and previews will take place at the show this year, new products, new versions and updates, mergers, acquisitions, .. The effect BIM BOOM is guaranteed!
Through this article we will try to guide you to easily find your target but not only, we have included the novelties of this year for each exhibitor with possibly surprises and announcements. We have sorted the solutions or rather the exhibitors according to three main categories with an alphabetical classification:
---
Design, calculation (trades)
---

ABVENT (93, 94, 95, 96)
Abvent will present the latest developments in its solutions ARCHICAD, Rhino, ClimaBIM, BIMx, BIMcloud, BIMmotion, Artlantis, Twinmotion, BIMoffice, will intervene in 5 conferences and round tables and will host 3 workshops !
Created in 1985 by 3 architects, Abvent is a 100% French group of R&D, publishing and distribution of technologies & services for architects and construction professionals, project owners and project managers.
---
ALLPLAN (169, 170, 171, 172)
Numerous demonstrations of BIM tools are planned for the show as well as conferences, events, and practical cases, among the solutions presented: Allplan Architecture, Allplan Constructors, Allplan Engineering, Allplan Allfa (Wealth management), Bim + (Open BIM collaborative platform), Bluebeam Reviewed (Project review), Solibri Model Checker (Quality control of digital models). Also discover examples of applications VR, and a 100% digital mobility-construction project review with our partners NVIDIA, WACOM et IMMERSION.
---
ALPI (161)
For the 3rd edition of BIM World, ALPI presents the solution BIMelec for the realization of electrical installations in digital model. Resulting from the BIM process, the BIMelec solution makes it possible to enrich and quantify the digital model of an installation, from design to execution, then throughout operation.
As a partner of Autodesk (Autodesk Industry Partner), ALPI offers an integrated solution to AutoCAD® MEP and Revit® environments. The BIMelec solution brings together a range of automated and communicating software, which enables the enrichment and costing of the digital electrical model. It thus guarantees the integrity of data exchanges and facilitates electrical installation design methods: from costing, installation and cabling of equipment, to standard calculations and the installation of electrical equipment in a cabinet. .
---
ATTIC + (128, 129)
Presentation of the 2017 versions of WinDESC-WINQUANT and D'Easy-KUTCH : exploitation and information of the digital model. Open BIM or Close BIM from the same software: advantages and disadvantages depending on your activity and your needs.
ATTIC +, editor of solutions for the 3D GRAPHIC management of written documents: CCTP, QUANTITATIVES, ESTIMATIVES, APD ... (for more than 20 years). Our solutions are fully Open-BIM (import - export IFC) or close-BIM (Revit Plug-in) compatible.
---
AUTODESK (41, 42, 43, 44)
Autodesk will be present with 12 of its partners: Aricad, Atlancad, CADUC, Eurostudio, FISA, Geomedia, Graitec, Intech, Lineis, M&M, REFSA and Stabiplan. Many topics, presentations and workshops are scheduled for this event: Collaboration made possible by the cloud, virtual reality and, more generally, the future of construction will be at the heart of Autodesk's interventions. Keynote by Uwe Wassermann, AEC Global Business Development. Presence and interventions of Nicolas Fonta, Revit Live Senior Product Manager. Interventions by Emmanuel di Giacomo, EMEA BIM Ecosystem Business Development Manager.
---
BBS SLAMA (113)
Presentations for the three solutions: ClimBim which offers the possibility of carrying out all the calculations allowed by ClimaWin (losses according to standard NF EN 12831, calculations of contributions by the Ashrae and RC methods, regulatory calculations RT 2012, dynamic simulation, etc.) from the interface Revit® from Autodesk or the interface ARCHICAD® from Graphisoft, working directly on the project developed under Revit® or ARCHICAD®. Lise bim also, a BIM solution in Revit for electricity. And ClimAudit software that allows, among other things, to audit a building according to a BIM methodology.
---
BENTLEY (134, 135, 136, 137)
Bentley will be present in the exhibition space. Our experts will be on hand to present our solutions for modeling reality, building construction and civil infrastructure.

We will have a workshop le March 29 at 11:30 a.m. (DA VINCI room) which will present the advantages ofAECOSim Building Designer, our multidisciplinary building design BIM software. And we will participate in 4 sessions (3D4, 3D1, 3D2, CO5).
Founded in 1984, the company Bentley Systems develops software intended for professionals for the creation and management of infrastructures all over the world (roads, bridges, airports, buildings, factories, etc.).
---
CYPE (243)
We will present the technology Open BIM of CYPE, and the new software Acoubat BIM by CYPE (study of acoustic comfort) and CYPETHERM cometh (Dynamic energy simulation) developed in partnership with CSTB.
CYPE develops and supplies design offices with BIM software for carrying out their technical studies: building energy and acoustics, lighting simulation, electrical and HVAC installations, structural calculation ... All in an Open workflow Integrated BIM, interoperable with the main architectural CAD solutions (ArchiCAD, Allplan, Revit).
---
DASSAULT SYSTEMES (100, 101)
Discover 3DEXPERIENCE platform dedicated toArchitecture, L 'Engineering and the Construction and through interventions by our experts, customers and users (conferences and workshops).
Dassault Systèmes, "the 3DEXPERIENCE® Company ", offers companies and individuals virtual universes to imagine sustainable innovations. Discover how Architecture, Engineering and Construction (AEC) professionals are modernizing construction to stay ahead of their competitors using industrialized processes and collaborative technologies delivered on the cloud by the platform 3DEXPERIENCE.
---
ENERBIM (236)
The EnerBIM team will welcome you within startups French South Digital. Demos, discussions around BIMsolar combining solar architecture and BIM and the project CN-BIMES of BIM digital notebook.
EnerBIM, founded in 2015, develops software bricks and specific configurators for BIM and Energy Modeling players. EnerBIM is particularly involved in solar architecture (BIPV), the Digital Housing Maintenance and Monitoring Book and the parametric energy object.
---
FISA FAUCONNET ENGINEERING (192, 193)
Fisa will be present with her partners, ATFF et e38 ©. Fisa will present its new range Fisa-BiM, which is now aimed at ALL building professionals, Architects and Engineers who produce digital models in a BIM process. Fisa-BiM offers new and essential tools for the management of a BIM project.
Fisa, thermal and fluids specialist in buildings, offers a global and coherent offer for BETs and climatic engineering companies that fits perfectly into a BIM process.
---
GEOMEDIA (97)
During BIM World, GEOMEDIA will present the new version 16 of its software COVADIS et Auto TRACK. Integration of infrastructure projects into the BIM process: exchange in format IFC et IMX of the MNT, Networks, roads, roundabouts, crossroads, horizontal and vertical signs… Revit software, Navisworks et Infraworks 360.
GEOMEDIA is the designer and publisher of topography, VRD infrastructure and road design software COVADIS and AutoPISTE. These two software are AutoCAD applications.
---
GEOMENSURA (92)
BIM WORLD will be an opportunity for us to present GENIUS version 9, resolutely open to collaborative work (IFC exchanges), essential to the creation of a digital model. We will also test our new model allowing to triangulate several million points per second.
Elected construction product of the year 2016, GEOMENSURA has been a designer & publisher of software for 35 years for all infrastructure businesses with a complete range of software particularly committed to the digital transition of its customers. Thus, we actively participate in research programs and clusters to generalize the use of BIM (MINnD, Mediaconstruct etc.)
---
LUMION (13)
This year Lumion will offer interactive demonstrations of the use of the software with the Development Manager, Mr. Christophe Maestri. We will present the LiveSync, latest news in version 7.3 of Lumion: This new update is a real opportunity for all users of Revit software. Indeed, Lumion has created a dynamic update between Revit and Lumion, all changes are made in real time!
Lumion is Real Time 3D visualization software suitable for all architectural and technical design professionals. Adapted to large architectural and urban development projects, Lumion allows you to navigate in Real Time in your project, to simulate the environment with breathtaking realism. Easily create images, videos, 360 ° panoramas and VRs, using 3D digital models from your design software.
---
MISSLER SOFTWARE TOPSOLID (126, 127)
Come and discover our solutions, in particular TOPSOLID, demos are planned during the two days!
Missler Software is the eighth worldwide publisher of CFAO (Computer Aided Design and Manufacturing) and ERP and the second largest French publisher. The software family TopSolid is intended for industrial Manufacturers and subcontractors of the mechanical and wood industry. Our software is intended to optimize the design and industrialization processes of industrial products from the Design Office to the manufacturing workshop.
---
RHINOFORYOU (219A)
RhinoArchitecture will be presented, a solution combining Rhino, Grasshopper and VisualARQ. Also on the stand Jon Mirtschin (strategic partner and global expert on IFCs) should participate in a "speech" on the theme: Examples of advanced uses of BIM. He will answer all questions relating to BIM-IFC as well as dynamic interoperability between software.
Rhinoforyou is developing 4 activities around Rhino3D software mainly but also around Revit (ADN): Developer of specific applications (construction and industrial sector), training, sales and technical support of software, technical studies with high added value (parametric modeling, calculation , dynamic interoperability or not between software ...). Our specialties are: IFCs and Design / Parametric Conception.
---
SCIA (89)
SCIA will be present to answer all questions from BIM World participants, both on the calculation of structures strictly speaking only on the integration of a design software in a collaborative BIM process.
Founded in 1974, SCIA is a Belgian company belonging to the global NEMETSCHEK group. It develops, distributes and supports SCIA Engineer, an excessively complete multi-material structural calculation and sizing software (reinforced concrete, prestressed concrete, steel, wood, aluminum, mixed structures) intended for all types of building and bridge projects. and civil engineering works and designed to adapt perfectly to BIM workflows.
---
COMPUTER SOC (114, 115)
We are releasing on the occasion of BIM World 2017, a new BIM tool called JustBIM which will be available in two forms: A free Viewer part integrating an IFC viewer. A paid part which gives the user the option of importing classifications into JustBIM.
The changes planned around this tool are numerous with, during the year, the setting up of access to a network library allowing the exchange of simple and composite works between DeviSOC and JustBIM.
---
STABIPLAN (78, 80)
Stabiplan France, Gold Partner Autodesk, will be present to present its Stabicad solutions. On this occasion Stabicad 11 will be unveiled, with many new features such as all the calculation modules integrated into Revit to French standards, the drawing and calculation module Sprinkler, the module Electric, the module of Prefabrication, the module of Reservations and many others…


---
TRIMBLE (70, 71, 72, 73)
During this event, the Trimble Buildings booth will bring together the Trimble MEP, Tekla Structures, Vianova Systems France entities for infrastructure design as well as SketchUp. In order to highlight the interoperability of its solutions, demonstrations of the workflow of a BIM model produced with solutions from the Trimble group will be carried out on the stand.
Trimble is transforming the way we do business by delivering products and services that connect the physical and digital worlds. Core technologies for positioning, modeling, connectivity and data analytics enable customers to improve productivity, quality, security and sustainability.
---
Collaborative platforms, data & content
---
3C-EVOLUTION (69)
BIM World will be an opportunity for 3c-evolution to discuss with industrial manufacturers on the management of their product information upstream of BIM projects, the standards in force (COBie) or to come (PPBIM), the main principles of structuring their product data, the complementarity of PIM (Product Information Management) and BIM (Building Information Modeling) solutions.
3c-evolution is editor and integrator of the solution nextPage©, PIM solution and multichannel publication, nextPage© makes it possible to structure and make reliable the product data of manufacturers in the building and construction sector. nextPage© also allows you to export your product data to the standard formats expected in the building and construction trades: BIM, ATITA, EDIBATEC, ETIM, eCl @ ss platforms, etc.
---
ACONEX (103, 104, 105)
In addition to the demos around the ACONEX platform, there will be a workshop on the theme of " Collaborative work on a Bouygues Immobilier BIM project »Based on a client case involving Wilmotte, Ertim, Syntesia et Bouygues Immobilier, with feedback on the collaborative management of a BIM project with Aconex, as part of the study phase of the 5 * Hotel Cours Albert 1er in Paris.
Aconex Limited offers the # 1 cloud and mobile collaboration platform for the construction industry. This platform connects the contracting authorities, general contractors and their project teams in the construction, infrastructure, energy and resources sectors, providing visibility and control over the entire project between the many organizations. collaborating on their projects.
---
AXEOBIM (226)
on our stand, we will mainly present: the functionalities of the 3D viewer (IFC and RVT files), the AxeoBIM "Cloud Connect" function (see presentation above), the new version of the Revit® by Axxone plug-in.
AxeoBIM is a collaborative BIM platform that provides BIM teams with a private, powerful, easy-to-use collaborative space, offering fine management of access rights, to manage and carry out BIM projects in an optimized way.
---
BIM IN MOTION (17)
This year we come accompanied by the new Lyon BIM startup with whom we are co-developing a collaborative platform integrating the first BIMchecker online. This SaaS solution will make it possible to democratize quality control in BIM processes at all levels with pre-configured and configurable rules at will (according to the BIM protocol, the specifications, the program, etc.).
We support several players in the construction industry (social landlords, local authorities, builders, etc.) in the definition and deployment of BIM solutions. Our expertise allows us to offer you our know-how in all dimensions of your project. Operational assistance (AMO, ATMO, BIM Management): Strategy (Consulting, R&D) Training of your teams in the principles of BIM and the handling of digital models to use the data according to your business.


---
BIM & CO (60,61)
As a preview, BIM & CO will present during a public workshop its latest innovation that simplifies the passage ofgeneric objects to manufacturer content, in order to identify with a single click the products marketed that meet the specific constraints of a project.
The BIM & CO portal is a Bookcases open BIM objects and product data for BIM players. Free for users and manufacturers, the BIM & CO portal offers manufacturers the possibility of publishing their data directly online.
---
BIMEO (231)
BIMEO integrates an IFC viewer capable of all basic functionalities including the exchange of information and the superposition of technical models (Archi, fluids, structures ...). BIMEO supports the user in creating the BIM convention.
BIMEO is a young startup based in RENNES which is developing a collaborative platform whose objective is to offer BIM for all. The principle of BIMEO is to collect BIM information and make it visible to everyone.
---
BIMOBJECT (85, 86)
In addition to the conferences planned, BIMobject® offers demonstrations of BIM objects in the presence of industrialists with Schüco, Alexandre Krupka, Prescription Manager, will be on the stand on Wednesday 29 at 11:30 am. Serge Ferrari, Pascal Norde, Building Marketing Manager - Tertiary / Retail, will be on the stand on Wednesday 29 at 14:30 p.m. Poujoulat, Fabrice VILLETTE, Ile de France / North region manager will be on the stand on Thursday 30 at 10am. Ideal Standard, Emmanuel MOUQUET, Business Development Manager France Non-Residential will be on the stand on Thursday 30 at 14:30 p.m.
BIMobject.com is an international portal dedicated to the creation and unlimited distribution of intelligent BIM objects, virtual replicas of products from industrialists and manufacturers. BIMobject. Has been chosen by more than 1000 manufacturers, has created more than 260 intelligent (configurable) objects downloaded more than 000 times!
---
PADLOCKS (22, 29)
CADENAS proposes the creation of catalogs et configurators 3D products for BIM, as well as a free platform for downloading BIM objects. Based on a unique technology, CADENAS catalogs and configurators allow suppliers to offer 3D plans of their products in many BIM formats such as Autodesk Revit, ArchiCAD, Nemetschek Allplan, IFC etc.
The BIMcatalogs.net platform offers a wide variety of downloadable BIM objects in the main exchange formats, to allow architects and building engineers to integrate these products optimally into their pre-projects.
---
COBUILDER (190)
coBuilder will participate in the BIM WORLD Paris event to demonstrate in detail the new features of its software platform goBIM. Also, the company will present a process containing 4 steps who explain to the building information manager how to placement, rassemblement, check et Shipping data produced on site. coBuilder will do this through interactive presentations.
---
DATBIM (200)
datBIM will present the evolutions of its platform and will make a particular focus on the diversity of new embedded manufacturers on our platform. We will be available to all to explain the first steps taken in our platform concerning generic objects.

datBIM is a publisher of a BIM data platform that allows all stakeholders to feed their digital models.
---
DROFUS (140)
We will be present at stand 140 where we will be able to present our activity and the dRofus software, answer all your questions and discuss BIM issues.

dRofus is a Norwegian company that has been a member of Building Smart for 10 years. Our software is a unique platform for data management and BIM collaboration within construction projects. We give the possibility to all the professionals of a team to access a central shared, transparent and exhaustive database in which is gathered all the BIM data of a project from the beginning to the end of the life cycle of the project. building.
---
EDIFYCAD (208)
Aware of the current state of practices and driven by a desire to meet the different needs of stakeholders around collaborative work, Edifycad positions itself between all BIM solutions and document management solutions, for a smooth transition to all digital through the use of BIM.
Edifycad is a collaborative web platform for sharing, viewing, and validating information between actors in a construction project. The platform makes it possible to generate consistent documentation throughout the project; SaaS mode allows users to ignore the difficulties of IT integrations and use the application immediately and online.

---
FINALCAD (180, 181, 184, 185)
Join FINALCAD to discover workshops & conferences as well as the 2017 edition of the white paper "Putting boots on BIM". Presentation of the first projects"FAB-LAB"of the Building 2.0 project with GTM Bâtiment, Saint-Gobain and KS Services. BIM progress monitoring with Autodesk Revit, context recognition SMARTSNAG, and the laying of observations in augmented reality with Tango, Flux.io and Revit. Many gifts, including one Lenovo Phab 2 Pro to win by playing on our stand!


---
FLOW (214, 215)
This year is Flux's first participation in an event in France! We do not organize workshops or conferences. On the other hand, we will be present on site all week to meet potential partners if necessary.
Flux is developing a cloud and flexible platform to promote the exchange and use of data related to the design and construction of building and public works projects. With "Data Not Files" as our motto, our technology is taking the industry upside down by exploding the silo of proprietary and / or standardized file formats. Today, thanks to Flux, your project information is accessible when you need it, where you need it and in the format you need.
---
GESPRO (238)
Presentation of our solution and more particularly of the module BimPro : Demo, concrete examples ...
Gespro offers a collaborative web platform dedicated to construction and accessible directly online. All those involved in the operation can thus discuss and collaborate on all the documentary and financial phases linked to the project. Bimpro, its BIM tool, is a genuine collaborative OpenBim.
---
LKSPATIALIST (234)
LKSpatialist presents LINEN® on stand n ° 234 and is organizing a workshop open to all visitors to the show on the following theme "The pre-operational: from the existing to the digital model».
LKSpatialist is developing a web application platform dedicated to the professions of landed and planning du territory. The application LINEN® is an innovation of use which makes it possible to characterize and evaluate the built and non-built plot potential, whatever the prospector's project on the whole of a territory. The application makes the territorial regulatory millefeuille intelligible by quantifying qualitative data.

---
MEP CONTENT (78, 80)
MEPcontent, the BIM library for MEP engineers, will also be exhibiting at BIM World. For this 2017 edition, we will welcome our manufacturing partners Mitsubishi Electric, Caleffi and the Chappée De Dietrich hub. You will be able to attend the presentations but also our Workshop "How large fluid builders contribute to the transition to BIM" on Thursday March 30 at 11 am, in the Da Vinci room during which we will demonstrate the ease with which you can integrate BIm content into your Fluid models.
---
PLANON (178, 179)
We will participate in two conferences: Wednesday March 29 at 15:30 p.m. - Convergence of BIM / GIS / 3D / IoT technologies and methods: the latest advances. Thursday March 30 at 10:45 am: Impacts of BIM on the operations and facility management professions. We will present on our stand the novelties concerning our solutions Planon Universe et SamFM in terms of BIM.
Specialist in IWMS (Integrated Work Environment Management Solutions) and Facility Management (FMAO / CMMS) software, the Planon group helps organizations optimize all real estate and facility management processes.
---
POLANTIS (118, 119)
With Polantis, take a behind-the-scenes look at the modeling of BIM objects. Our architects will model BIM objects live, they will be at your disposal to answer your questions ... Our clients will also run E-Catalogs Workshops: come and attend the presentations of AkzoNobel, Sika, Velux, VMZINC and Lafarge.
With hundreds of thousands of architects and specifiers registered in 190 countries, tens of thousands of objects produced and more than 28 supported software formats, Polantis is the world leader in the creation of CAD and BIM content for product manufacturers. and materials for construction.
---
RESOLVING (54, 55, 65)
Resolving has been offering software and functional solutions in project management for more than 10 years. Our tools guarantee players in the construction and industrial trades an unprecedented gain in performance in terms of project management, execution monitoring, quality monitoring, inspection and acceptance / delivery phases.
Our latest generation connected mobile applications are an integral part of BIM. Linked to the digital model, they support our clients from study to operation, thus solving their Project Management issues.
---
SABLONO (227)
Sablono is a state of the art web-based process management platform specifically designed for the construction industry. Its unique technology allows for handling highly complex projects with hundreds of thousands of components and tasks. General contractors as well as project management companies are using the software to constantly keep track of the latest developments on their sites. Various participants can collaboratively collect information on the detailed progress of the project by using mobile applications on the site as well as other relevant places such as component factories. For the very first time, all information that is connected to the building process can be captured in one central database enabling the user to run complex calculations and progress analysis instantly.
---
SMART USE (62)
Smart Use is at the heart of the digital transformation of companies, communities and organizations through an approach centered on the uses and performance of services. Carrying out procedures on BIM in operation, Smart Use is launching a training platform with remote tutoring. The first BIM training in operation and in BIM AMO will be presented and form part of Smart Use partnerships and feedback with professionals in the sector. Partner of AFNOR and the Leonardo da Vinci Institute, Smart Use is the referent of the Scientific and Technical Committee of Médiaconstruct.
---
SOPRA STERIA (154, 155, 156, 157, 158, 159)
Exhibition at stand level, two workshops: "From BIM to asset valuation, by La FoncièreNumérique®" "The success of your operating BIM driven by mastery of BIM Continuum" as well as a conference "The challenges of BIM Operation ".
Sopra Steria - Solutions Immobilier supports you in the digital transformation of your real estate assets to help you meet the human, environmental, technical and financial challenges of your buildings. At the forefront of digital technologies (BIM, apps, cloud, etc.), Sopra Setria offers the most complete modular real estate information system on the market.
---
Laser scan & augmented / virtual reality
---
BLOCK IN BLOCK (91)
The start-up Bloc in Bloc will present its latest innovation: an application of mixed augmented reality in situ ("Block # 3"). This allows the BIM model to be superimposed directly on the building environment. Applied to construction and BIM, this technology facilitates visualization, in the field with a tablet et without internet connection, all BIM information in full immersion.
---
CINTOO 3D (30)
Cintoo3D presents its solution in preview at BW2017, in partnership with Microsoft et Graphic Art & Heritage.
Cintoo3D allows you to display, ofenrich (measurements, annotations, etc.) and share interiors and exteriors of buildings in very high resolution 3D, resulting from the capture of reality (scan and photogrammetry). Any Construction technician from a simple web browser and an internet link can access in real time, and in collaborative mode, to this very rich information., until now reserved for a population of experts.
---
FARO (173)
FARO will be pleased to welcome you to its stand to provide you with free demonstrations of its range of laser scanners. Focus and the hand scanner Freestyle3D X. The following products will be exhibited: Our range of laser scanners FARO Laser Scanner Focus - The new FARO Freestyle3D X hand-held scanner - SCENE scan processing software.
---
IMMERSION (19, 20, 21)
Immersion will exhibit different solutions of virtual reality and mixed reality, around the project ofeco-neighborhood ZAC Bastide Niello imagined by the architect Winy Maas and managed by Bordeaux Métropole Aménagement as part of the development of the right bank of Bordeaux, progressing rapidly.

European leader and major international player in virtual reality, augmented reality and collaborative solutions for the world of industry and research. Since 1994, Immersion has been designing and integrating high-end display and interaction devices, used to test, design, simulate and validate in real time around the digital model.
---
LEICA GEOSYSTEMS (201, 202, 203)
3D scanning solutions for the capture of the existing and the creation of digital model as well as measurement solutions for implantation and control of construction sites from the BIM model. In preview, Leica Geosystems will exhibit its new 3D solution, Leica BLK360 for the capture of reality.
Revolutionizing the world of measurement and surveying for nearly 200 years, Leica Geosystems is the industry leader in measurement and information technology. Leica Geosystems designs hardware and software solutions to connect the real world and the digital world through its 3D scanning solutions (static or mobile 3D laser scanner), drone and total stations to control digital data to the field.
---
MYCAPTR (213B)
Levels3d is a real time 3d scanning software publisher. We market the MyCaptR application (2016 winner of the Digital Transition in Building Prize in the "digitization of existing" category). MyCaptR is a 3D digitization solution carried on smartphones, designed for building stakeholders and more particularly design offices, architects, general contractors. MyCaptR allows you to scan a living room as easily as filming, then automatically generate the 3D scan and 2D plans.
---
SNAPKIN (235)
Our president, Jérémy Guillaume, will speak at the conference " Tools and methods to digitize an existing heritage »March 29 at 16 p.m. with Christophe Eyraud, BIM Manager of Brézillon, Bouygues Building Ile-de-France. We also organize a workshop with the company LKSpatialist on "The pre-operational: from the existing to the digital model" on March 30 at 11:30 am.
Snapkin is a SaaS service for creating digital models from 3D scanner data. Resulting from 4 years of research, our patented algorithms automatically detect walls, floors and ceilings in a point cloud and thus create the BIM model of an existing building in a few minutes.
---
TECHVIZ (56)
TechViz will perform demonstrations of its solution on different systems: Direct display of 3D virtual buildings in an HTC Vive virtual reality headset - Collaborative demonstrations will take place between an HTC Vive and a Powerwall equipped with an ultra short throw projector - Cardboard 3D: you can also record an immersive view of your virtual building - The Building Explorer option will allow you to virtually visit the interior of a building.
TechViz is a global leader in advanced visualization solutions for 3D applications. Our mission is to enable our customers to improve their production cycles, save money and reduce the time to market of their products by having a better understanding of their 3D data.
---
Victaulic (74)
Come and discover Victaulic, an innovative Autodesk® Revit® MEP add-in that increases drawing productivity, solves troublesome pipe routing problems and enables the creation of construction and fabrication documentation within Revit.
As the world's leading producer of grooved mechanical pipe-joining systems, Victaulic works collaboratively with its customers and affiliates worldwide to deliver innovative solutions across our core business areas. Our products and services put people to work faster while increasing safety, ensuring reliability and maximizing efficiency and sustainability.
---
NB: this list is not exhaustive and only includes the publishers that we have managed to contact. If you are not listed, contact us on contact@hexabim.com.

More info on the official BIM world website: bim-w.com

On the same subject:
By accepting you will be accessing a service provided by a third-party external to https://www.hexabim.com/