1 minute reading time
(245 words)
BIM World 2015, reviews and contacts!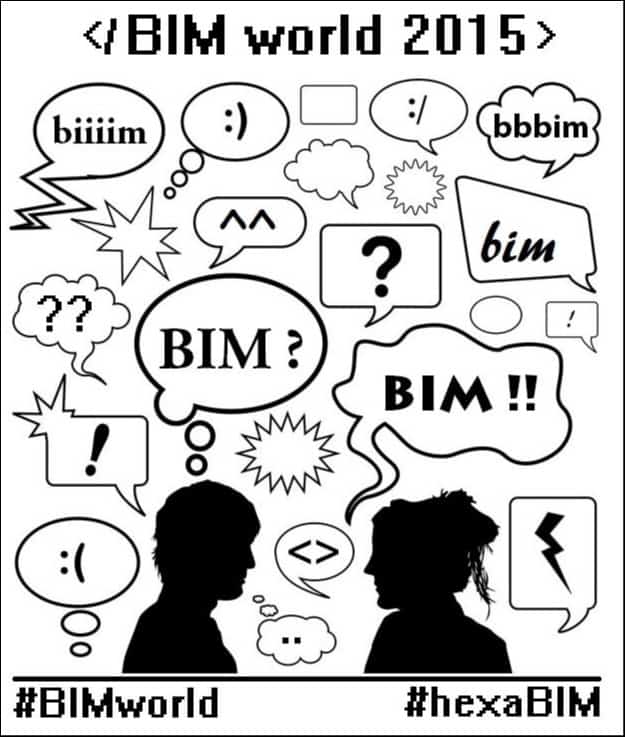 BIM world 2015 ended well last night and fortunately, after two long 100% BIM days, it is the most important event in France dedicated entirely to BIM, many political personalities were present at the show, software publishers as well as general contractors and design offices.
Two main criticisms were made during these two days: the narrowness of the lounge and the relatively expensive price for the conferences part, many would have liked that at least the entry was free, others saw these criticisms differently, this narrowness has encouraged a lot of exchanges and contacts!
One thing is certain, the goodwill was present at the show, everyone wants to do BIM, remains to be channeled and framed by the responsible authorities.
Little memory of BIM world 2015:
Everyone will recognize themselves in this photo, me with my grapefruit juice! To name only him our photographer, Jonathan Renou, thank you to all those who agreed to have a drink in the large hall of the CNIT, thank you to the many members that I was able to meet during these two days, Correntin Busson, Michel Sigiscar , Olivier Leclerc and all the others whose name does not come to mind, nothing beats direct contact!
Roll on the next BIM world 2016 which is already set for April 6 and 7, 2016, this time at the Grande Arche !!
Until then, we'll meet at the Intermat and Batimat fairs, April 20 and November 2, respectively.
On the same subject:
No comments yet, be the first to comment!
By accepting you will be accessing a service provided by a third-party external to https://www.hexabim.com/