4 minutes of reading time
(766 words)
[Study] BIM Managers: Builders of the World of Tomorrow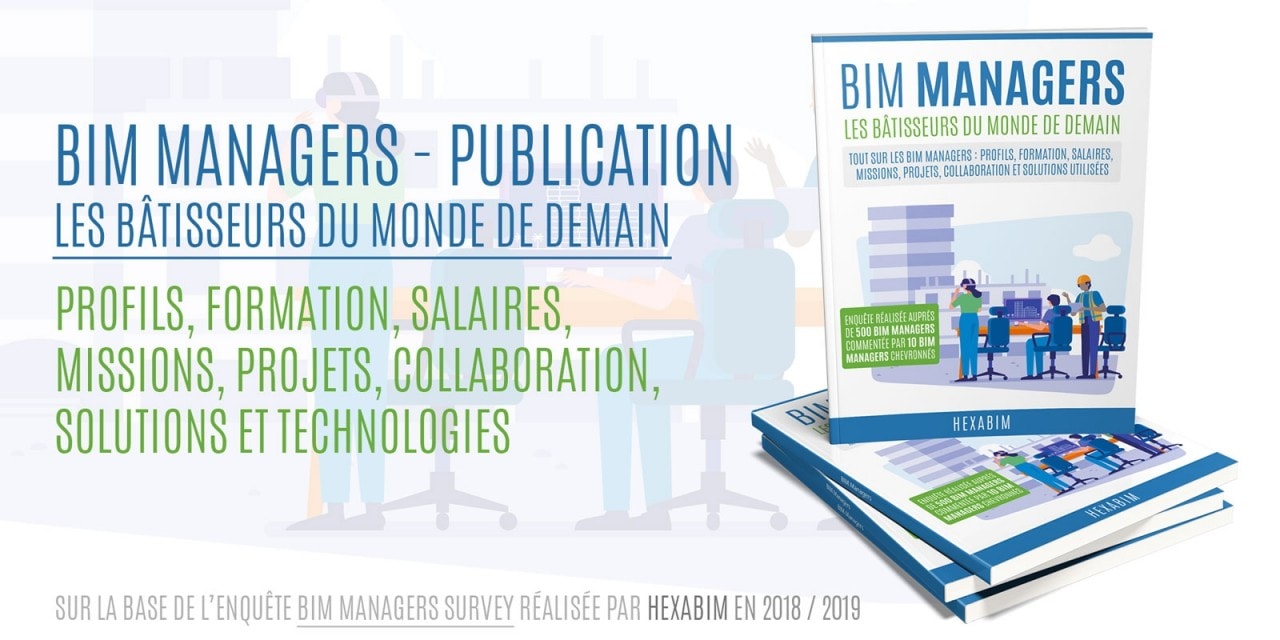 Who are the BIM Managers? What is their background? What types of projects are they focused on?
HEXABIM was interested in the status of BIM Manager, in order to identify a typical profile, to better understand the components, roles and challenges of these men and women who embody a central function in the BIM universe and any construction project. today. 500 participants responded to the survey launched in 2018/2019 by HEXABIM, the results were compiled, organized in statistical form.
Work environment, sociological study, BIM level ... You will find all the details and comments in the BIM Manager survey to be published in the form of a white paper.
Testimonials from professionals will support the results.

1. What training to become a BIM manager


First and foremost self-taught BIM professionals!

Self-training leads the training courses followed by professionals in the panel (57,6%), followed by `` software '' training (46,3%), then specialized masters (21,2%), then E-learning-MOOC distance training (15,5%) and finally other training (15,3%).

2. Main missions of BIM managers

Varied missions!

BIM projects take the form of various assignments. The implementation of BIM corresponds to the mission (64%). Then, in similar proportions, come: the modeling of digital models (60,1%), the drafting of documents (59,7%), project management (59,7%), technical and technological watch (58,3 %), support training (57,5%) and Synthesis - Coordination - Revision of digital models (57,5%).
The other missions declared by less than half correspond to: team management (49,5%), modeling of BIM objects (46,7%), quality control-supervision (40,1%) and IT development (23,8 , XNUMX%).

3. Profiles of BIM managers

More than 50% engineers and architects!

Engineers represent a third (32,5%) of BIM managers, followed by architects (27,4%), designers (22,2%), technicians (11,3%), economists (2,4 %) and finally the surveyors (0,8%). The other trades account for around 3,4% of the whole.

4. Share of BIM projects

Exclusively BIM projects still in the minority!

The projects of which the share of BIM projects represents only 25% are of the order of 46,8%, those of which they represent half are of the order of 18%, those of which they represent three quarters 19,3%, and projects exclusively BIM 16%.
Other topics to discover in the study when it comes out:

A. Sociological angle
• Preferred regions of BIM managers (study by regions)
• BIM manager of an essentially junior job (study by age groups)
• Be a BIM manager (study by gender)

B. Economic angle
• Self-employed or salaried, which status should be preferred? (Study by statutes)
• Everything about salaries (study by salary brackets)
• Well-paid consultants (study by daily rate brackets)

C. Professional angle
• Manager, coordinator or referent, several titles a job (study by titles)
• Experienced in the field of construction above all (study by global experience)
• BIM manager of a recent profession (study by BIM experience)
• A daily BIM manager (study by assignments)

D. Academic angle
• Before being a BIM manager (study by business and profiles)
• Training in the BIM manager profession (study by training)
• Concretely, how to become a BIM manager (study by type of development)

E. Environment
• A dominant private sector (study by sector)
• BEs as leaders (study by type of structure)
• Very present SMEs (study by company size)

F. Projects
• BIM still in the minority in projects (study by percentage of BIM projects)
• BIM managers present from design to operation (study by intervention phases)
• More agile in new buildings (study by type of project)
• They work on major projects but not only (study by size of projects)
• From residential to industrial, their favorite works (study by project category)
• BIM 2 a level mostly deployed (study by BIM level)

G. Solutions
• 93% Revit digital models (study by main solutions)
• To each his own business, each his own solutions (study by business solutions)
• +80 daily solutions for BIM Managers (study by secondary solutions)

H. Collaboration
• IFC, the crossroads of BIM managers (study by IFC use)
• A collaborative profession (study by use of collaborative platforms)
• What collaborative platforms do BIM Managers use? (study by platforms
deployed)

I. Miscellaneous
• Homemade BIM (study by source of BIM objects)
• Around BIM: reality capture, AR / VR and OC (study by satellite technologies)
Expected publication date: March 31

---
On the same subject:
No comments yet, be the first to comment!
By accepting you will be accessing a service provided by a third-party external to https://www.hexabim.com/