3 minutes of reading time
(519 words)
BIM managers: at the heart of the digital transition [Study]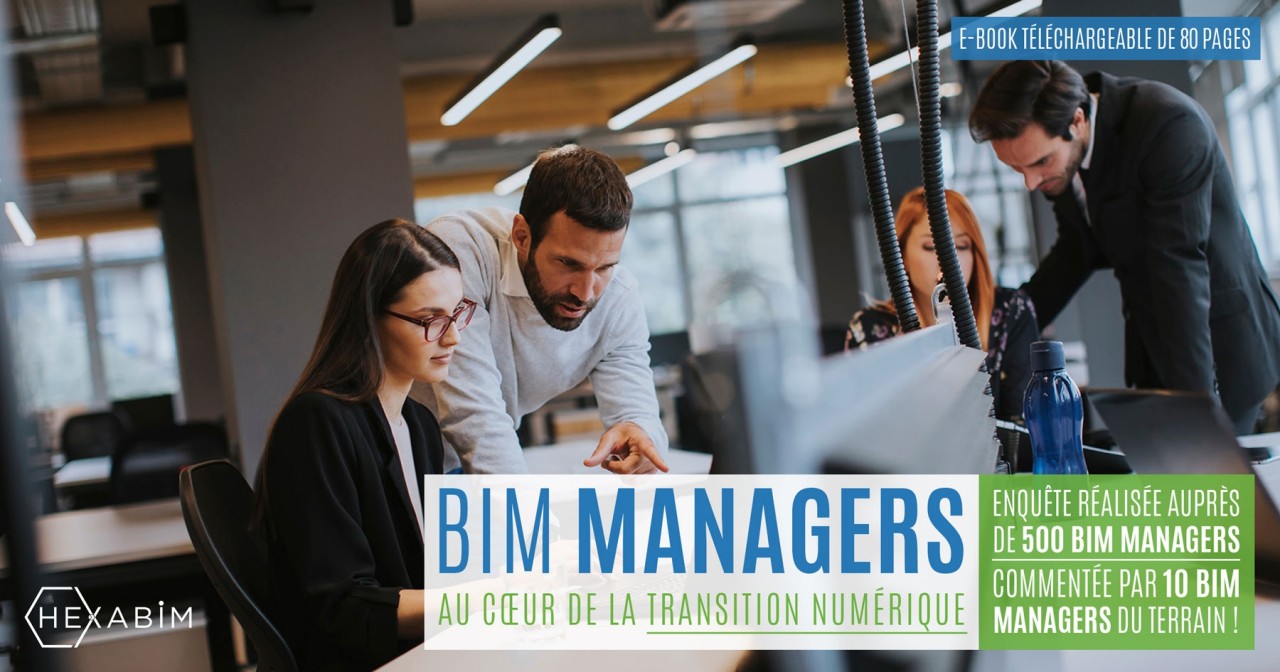 HEXABIM was interested in the status of BIM Manager, in order to identify a typical profile, in order to better understand the components, roles and challenges of these men and women who embody a central function in the world of BIM and of any construction project today.
To collect as much information as possible, a vast survey was launched in 2018 among members of the community: 750 people answered our questions. After a first filtering (incomplete answers, profiles not BIM managers) it is a set of 500 participants who will give material to this book by having answered the survey initiated by HEXABIM, the results were compiled, organized in the form of statistics described objectively.
The period covered is 2018-2019, this first research work will be updated soon through a vast collection of information for an updated 2021 version, in which HEXABIM will invite you to participate.
---
---
What are the themes addressed?
Work environment, sociological study, BIM level ... You will find all the details and comments in our BIM Manager survey in the form of a white paper. The analysis of the results allows us to draw up a portrait of the BIM manager according to his location, his age group, his experience in BIM, his training, his experience in the field, the types of projects on which ones he works with, which software he uses, etc ...

Note: certain modalities (possible answers) have been grouped together with the aim of seeking to obtain significant and relevant results, in particular with regard to comparisons between regions.
---
Content on several levels
The results obtained in this survey are mainly dealt with in two parts:
Primary results obtained directly from a single question (eg Age).
Results in the form of a cross-referencing of several questions (Bi / multivariate) in the "Complementary analyzes" section. (eg Age and BIM training).
Ancillary studies : this section represents the other chapters which have a relation with one of the complementary analyzes, a kind of shortcut to help you better navigate in the book and find additional information.
Un attached document a hundred pages containing all the details of the results in the form of tables and graphs is available on request.
HEXABIM can also provide you with personalized reports if you wish to cross-reference or study data from the survey (eg the use of a BIM solution by region, profile, etc.).
---
Testimonials from professionals in the field
Finally, to support our work and bring a lively touch to it, we called on a dozen BIM managers to enrich the results with their testimonials and points of view. HEXABIM warmly thanks the professionals who participated!

---
We hope you will find this book useful both in your professional life and in your studies.
Do not hesitate to contact us for any comments or suggestions or to testify and be part of the next 2022 edition.
---
On the same subject:
By accepting you will be accessing a service provided by a third-party external to https://www.hexabim.com/