4 minutes of reading time
(825 words)
BIM Influencers 2020: the event for BIM players and enthusiasts back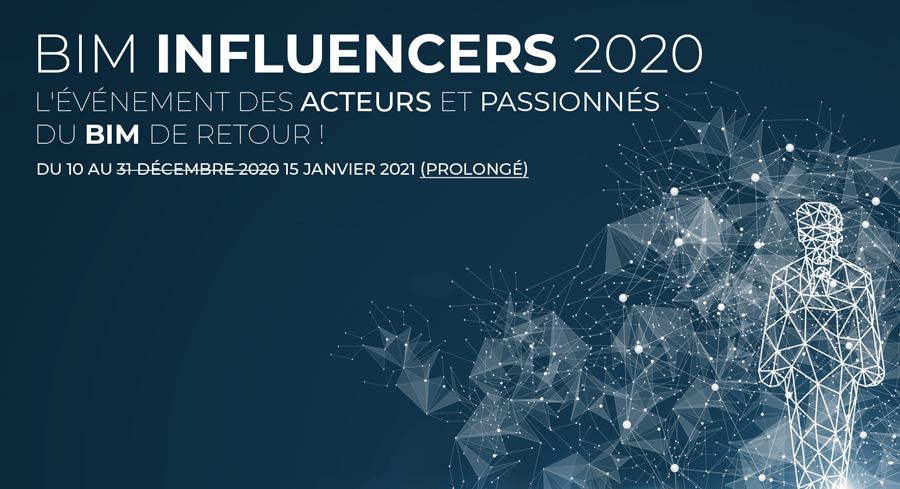 Hello, the BIM community!
The BIM Influencers event is back for a 2020 edition with lots of new features.
By organizing this competition, HEXABIM wishes to support and put forward students, professionals, companies and owners of initiatives and / or who advance BIM in the construction sector.
This year has been difficult for all of us and it is on a joyful and encouraging note that HEXABIM wishes to end it with you.
We are a community of enthusiasts and HEXABIM wishes to join forces with all players in the BIM sphere to move forward.
---
This year we have decided to include some new features:

Professional, Small businesses, Small & Medium Entreprises ou big business you can apply on a personal basis, as a BIM professional or as a structure for the whole team. Two categories are available to you: " Professional "And" structures ».
The principals (public and private) are honor this year, they are the driving force behind the development of BIM in France, allowing its implementation throughout the country. We want to highlight them this year to participate in this competition with the category « Contracting authorities ».
A new special category for BIM players located outside France. If you are abroad, you can participate in «

International ».
A lot of work and theses have been done around BIM! Because they are the future of BIM, the learners, students et young graduates are also invited to participate (category: Juniors). Encourage them!
Ladies, many of you shared your passion for BIM, your achievements and your projects, which is why this year 2020 will also honor the women who drive BIM forward. A special mention: « BIM Influencers » of the year.
Goodies : a

surprise

for you to discover later!

Note: The BIM influencers from previous editions will be actively involved in this edition, they will each publicly sponsor a different influencer BIM candidate for whom they will have the power to vote x10 compared to a normal voter, a significant boost!

---
Here's everything you need to know for the 2020 edition:
Votes and candidacies:
From 10 to December 31, 2020 January 15, 2021, BIM professionals are invited to apply, or by suggesting other people or structures involved in BIM.
As soon as their candidacy is validated, they can invite their employees and their professional network to vote for them.
The public vote will take place over the same period to elect at the end the winners of the different categories.


Announcement of the results and presentation of the trophies: from January 15, 2021 (the exact date will be communicated later).
The categories of the competition, with a top 10 for each of these categories:
Contracting authorities
Professional
Companies
Special categories, with a top 3 for each of these categories:
Junior (Students and young graduates)
International
Special mention :
BIM Influencer of the Year (awarded to the 3 most active women this year).
The competition will take place on the platform www.hexabim.com section "BIM influencers 2020".
---
If you do not wish to apply yourself or for your structure, you can suggest the candidacy of a no one or a structure inspiring (link at the end of the article).
Partners and Sponsors


> Institutional actors are the
core
sector, they will be the partners guaranteeing the inclusion of all construction and public works stakeholders and will help us to put together great initiatives around BIM! Contact us to join the initiative: contact@hexabim.com


> Without innovations from the world of hardware & software equipment BIM would not have taken place ! They will be at our side to support the initiative as sponsors. Contact us to support the event: contact@hexabim.com
---
You can now apply or propose a candidate via the button / link below.

---
---
The voting page will be available from the validation of the first candidates!

We are expecting many of you!
---
The 2019 edition in a few photos:
On the same subject:
By accepting you will be accessing a service provided by a third-party external to https://www.hexabim.com/