6 minutes of reading time
(1122 words)
BIM, energy and environment, the winning combination for Bruno Guillaumont at Schneider Electric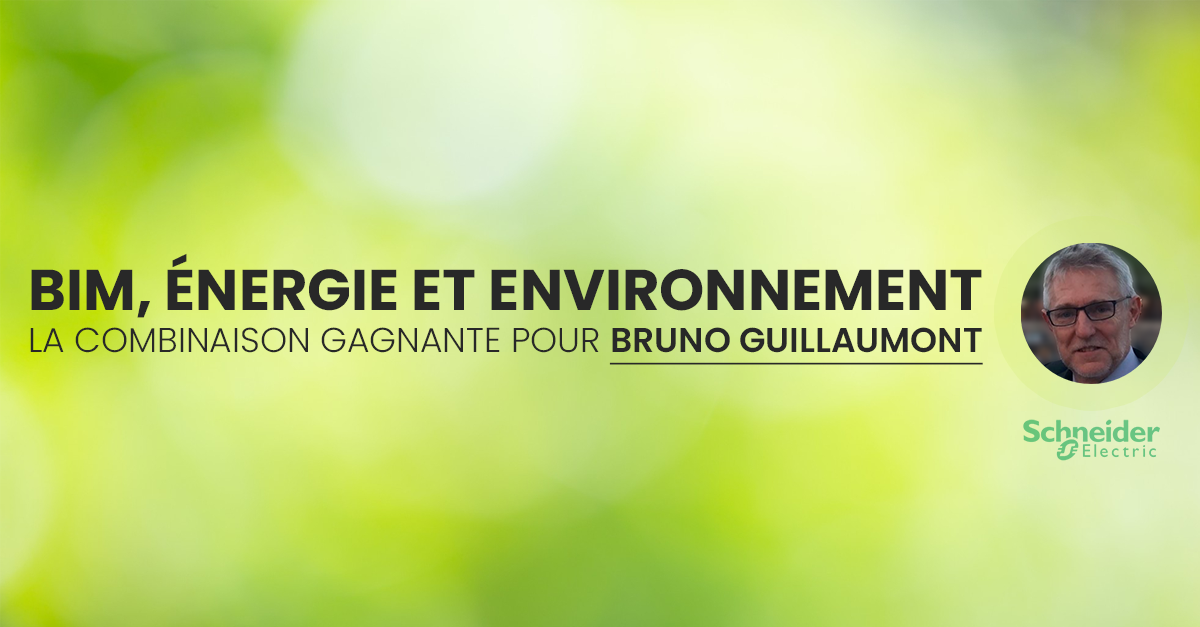 HEXABIM had the pleasure of interviewing Bruno Guillaumont, in charge of development and BIM strategy at Schneider Electric. An exciting return to the place of BIM, environmental challenges and energy management. We will see how BIM is deployed and optimized to serve users of Schneider products and solutions.

A pioneer in the field of Electricity BIM, Schneider Electric develops BIM solutions and suites integrated into Autodesk products and offers BIM training for the electricity sector.

GEM is not left out, since LEED Platinum certification is underway for the smart building demonstrator with its digital twin, as part of the new Intencity building located in Grenoble.

---
Director of strategic intelligence at Schneider Electric France, Bruno Guillaumont is an IT engineer by training with a master's degree in business administration and began his career in the development of software for the nuclear and electrical industry. He then held various positions in the strategy teams of the world leader in electrical distribution, automation and energy efficiency. He coordinates and promotes Schneider Electric's BIM initiatives in France and is at the origin of the BIM working groups of professional unions in the sector. He represents the FIEEC (Federation of Electrical, Electronic and Communication Industries) at the BIM 2022 Plan as well as at ADN Construction (Association for the Development of Digital in Construction) where he chairs the BIM Operation Maintenance commission.
---
What is the place of BIM at Schneider Electric?
For Schneider Electric, BIM is at the heart of our strategy focused on digital and respect for the environment. These 2 themes directly impact our customers and partners, in their digital and environmental transformation.
The French public authorities have not imposed the use of BIM unlike other countries, but all professional organizations, major contractors, many companies are engaged in an approach that aims to generalize BIM in 2022.
Even if this generalization will be gradual, Schneider Electric is already committed to supporting its customers and partners in their digital and environmental transformation throughout the building's life cycle.
What link do you make between digital and the environment?
Some figures for France:
The building is 45% of national energy consumption,
the construction industry represents 33% of waste,
non-quality is 10% of the turnover of projects.
The regulatory framework is being strengthened to impose a reduction in the energy consumption of the French tertiary park: this is the Elan law and the tertiary decree. In new buildings, the new regulation which succeeds RT2012, RT2020, will apply from January 1, 2022 and will impose not only energy performance, but also environmental performance with the carbon impact taken into account over the entire cycle. building life.
Digital technology should make it possible to build faster, better and cheaper buildings that are more respectful of the environment and smarter.
How to tackle this environmental challenge, how to manage the control of energy consumption?
The BIM environment now allows thermal and energy simulations which help to make the right construction choices. Tomorrow, we will also be able to simulate, directly from models, the environmental impact and reduce it. Controlling consumption also involves building control solutions. Our EcoStruxure solutions, for example, will automatically put unoccupied areas of the building into energy rest, to maximize the comfort of occupied areas. Here too, regulations play an important role, and the BACS decree requires that non-residential commercial buildings, new and existing, be equipped with automation and control systems (or Building Technical Management system) by the 1st January 2025.
Concretely, what is your BIM approach within Schneider Electric, what means are deployed?
First of all by modeling our products, equipment, solutions. Our library, the most complete on the market for electricity, high current and low current packages, is hosted on the BIM Object site. Thousands of models are available. We also stand out for the quality of the content. Our families are parametric, the 3D geometry is not too heavy so as not to weigh down the project models, the properties useful to designers and installers are specified. When the number of models is very large, our families are contextualized in typical projects: housing, office, hotel or hospital. Users just have to copy / paste into their own projects.
We use Autodesk's Revit connectors, which makes it possible to implement the electrical and communication and control architecture in the model. In this case, the project teams can obtain a power assessment, list of materials, directly from the model.
Then we bring productivity tools, BIM software. Let us quote for example:
BIMBusway to design the architecture in Canalis and junction boxes,
Caneco BIM to size the electrical installation, enrich the digital model with the results of calculations carried out in Caneco BT (cable sections, protections, short-circuit currents, etc.), guarantee compliance with the standards in force, etc. .
RIB MTWO, business platform that will allow collaboration throughout the project, perform costing and planning in connection with the model (we speak of BIM 5D), simulate, supply, and interface with the system management of the client company.

Currently in development, a complete electrical suite that will enrich Autodesk solutions.
Our value proposition is therefore built with an ecosystem of sister companies and partners.
BIM content, tools, but also service. We have just launched a BIM Electricity training program, in the Schneider Training Institute catalog, and in partnership with Autodesk and Alpi. Mainly for design offices and installers, this unprecedented 3-day training course allows in 25 exercises to start from the project sketch to the DOE model then GEM with complete high current and low current models.
What about operation and maintenance in all of this?
All this would not be complete if we did not deal with maintenance operations. This is effectively 75% of the cost of the building. These are the end customers, project management, site management, facility managers who ask us to interface our EcoStruxure solutions for technical building management, energy management, space, with the model. We are talking about digital twins of the building. With our facility manager, we are implementing such a solution on our new Intencity building in Grenoble, for which we should obtain the world record for LEED Platinum certification points. This intelligent and efficient building demonstrator with its digital twin can be visited by our customers and partners.
On the same subject:
By accepting you will be accessing a service provided by a third-party external to https://www.hexabim.com/