20 minutes of reading time
(4066 words)
At the heart of the HEXABIM community: Focus on the members of the year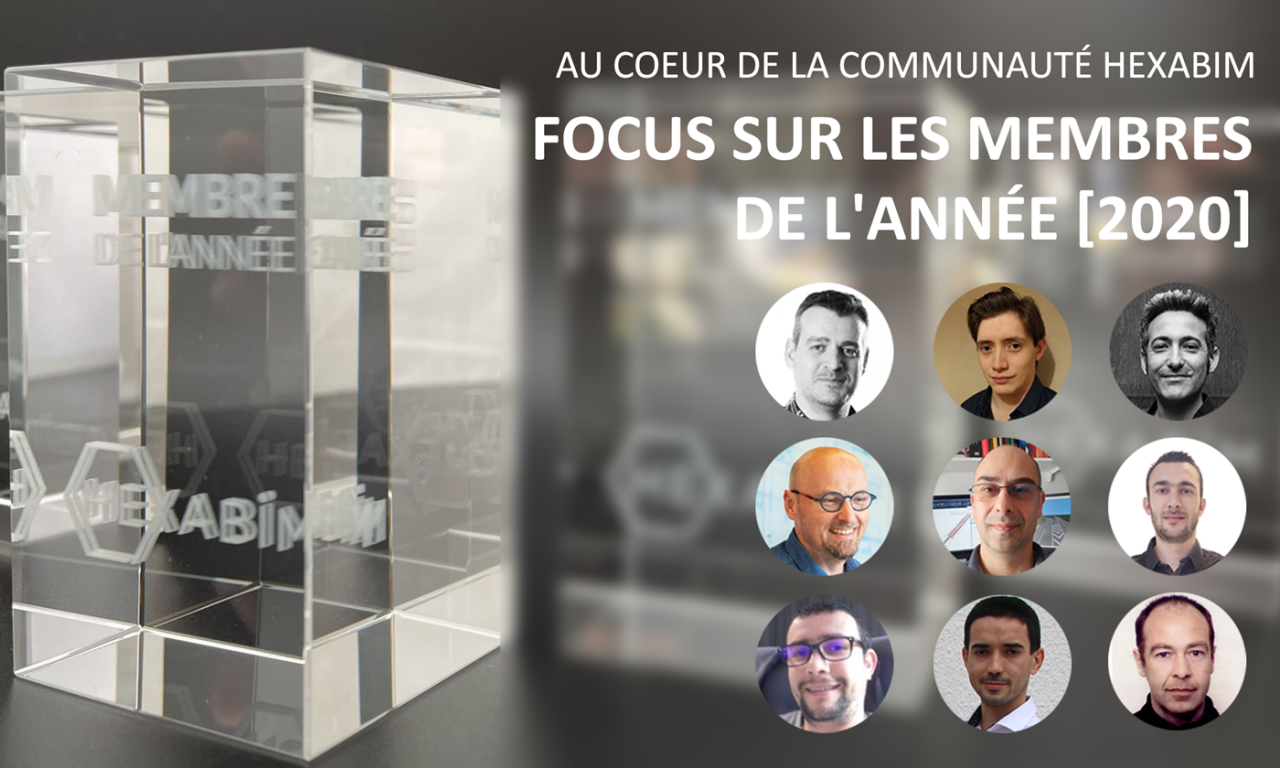 HEXABIM is honoring our most loyal contributors this month on the platform's discussion forum. Very active, their advice helps members and readers a lot, it is thanks to them also that the HEXABIM adventure continues its journey with its human dimension.
We have drawn up a TOP 10 of the most active members during the previous year, we thank them very much, they too will be entitled to their small trophy, symbol of our recognition for their human and professional involvement in bringing the BIM community to life on HEXABIM .
So thanks to :
Akli Aït Medjber, BIM Coordinator - Demathieu Bard

Benoit Dargent, Draftsman & BIM Referent - Groupe MAES Architectes Urbanistes
Christian Deymonnaz, Revit BIM Designer - EGIS Tunnels
Christophe Fortineau, trainer, consultant, AMO BIM

Francois Bastier, Trainer and independent consultant - Moebius42
Jerome Pereira, Electrical engineering technician - Etchart Energies
Lionel Perrin, Expert Engineer Bim Infrastructure - Geomedia
Michaël Fauchet, BIM Manager - Patriarch

Raphael Blaiteau, BIM and Revit Coordinator - OUTINORD
Remy Maurcot, BIM Product Manager - BIM & CO
---
In order to get to know them better, we asked about their background around BIM, their values, the projects they are working on or have worked on and finally their observation or vision of BIM in France. Here is their feedback!
---
Akli Aït Medjber - BIM Coordinator

Master 2 in Civil Engineering by training, BIM Coordinator of the Demathieu Bard group, I make sure that AMO's BIM expectations are respected for all BIM contributors. I assist the project teams in the production of the BIM mission throughout the EXE phase and until the delivery of the digital DOE. At ease with Modeling and structural calculation tools and passionate about automating tasks under Dynamo.
Her values ​​:
It is by seeking to resolve the difficulties of others that sometimes that helps us to progress too.
The choice fell in particular on the HEXABIM platform, for its ease of use and ergonomics.
His projects:
ITER TB12
New BLB Lyon Headquarters
OSMOSE WACKEN Business Center
Grand Est medical-pedagogical clinic
---
Christian Deymonnaz, Revit BIM designer

As an architect collaborator, I started on Revit in 2008 as an autodidact, at the time we were not yet talking about BIM ...
2014, STAÜBLI: Modeling under BIM charter of the company's real estate assets: Revit MEP models of the new boiler room, extraction of data for quantity measurements, laser scanner surveys.
2016, EGIS Industries: BIM for district heating, Revit MEP templates and families.
2017, ELCIMAÏ: Extension of a pharmaceutical factory, the most exciting of my BIM challenges: Confronting our different cultures, juggling between Archis, Structure, MEP, Process plans and convincing project managers to adopt the model in addition to the plans and cuts; finally, a Navisworks model was delivered to the customer, for an optimized exchange.
2018, IOA, BIM Referent: Formwork plans for stations in Greater Paris, under the leadership of major BIM players: Bouygues, Systra, Valode & Pistre.
Her values :
My relationship with HEXABIM is a good exchange, on the one hand I am often isolated in the BE: the entourage is not very involved in the BIM process; on HEXABIM, I interact with people who have interests in the BIM culture; the approach of others is interesting insofar as it is different from mine, because their needs are different, but in the end we all want to move forward with a BIM approach; when we can help each other it's great, it helps to spread and extend the BIM culture a little more. Too often in the BE, some, when they get stuck on a BIM subject, fall back on an Autocad solution… In the end, there is no longer a BIM model to speak of…
His projects :
Since 2019, EGIS Tunnels: Realization of templates and cartridges for a BIM level II project, in Pre-Project phase, creation of GC families, BIM level II model, AP phase: (Underground work: Thermo-refrigeration plant, Logistics complex, Center waste treatment plant, Concrete plant).
His findings on the adoption of BIM :
Officially, the construction majors are at the forefront of BIM, but it is necessary to qualify: on the one hand there are R&D cells which develop / test BIM tools to optimize the act of building, from the engineering office, to the site. and on the other hand, with these same majors, there are sectors which offer a strong resistance to BIM, due to the nature of their works (example: linear works), also, the refusal to leave a comfort zone (Strong Autocad culture which refuses to question itself) and finally a lack of knowledge and preconceptions about work in BIM.
Small structures, when they take the BIM approach, are certainly more involved than certain majors.
---
Francois Bastier, fspeaker and independent consultant
I started 14 years ago as a draftsman in metal framework, on Tekla. With the calculations engineer from the design office, like so many others before us, we had to deal with the loss of time caused by double modeling. We therefore very quickly sought to put Tekla in touch with Robot, at the same time opposing the two very different approaches to modeling which are modeling to make the plan and that to establish calculation notes. The Tekla files were also sent to the numerical controls for manufacturing and I briefly modeled the networks and structural works to perform the batch summaries of complex projects, on Tekla or Autocad MEP.
I continued in special works then infrastructure in the oil sector. Two sectors in which working procedures have been for several years, even before BIM was in the limelight, very standardized, regulated and follow protocols that hold offices of industry methods. To my collaborative look at software, was added the procedural dimension of unified working methods: Centralization of information in all these forms, cohesion of working methods, increased collaboration between work teams, sometimes distributed all over the world and each using specific business software. In the boom of 3D models and model integrations, it was a period of hesitation, testing, risk-taking, interesting avenues of reflection, even though some of them turned out to be unsuccessful.
There followed a period in the MOE Tous Corps d'Etat design office. I worked there as a structure / architecture designer and fluid designer on Archicad and Revit, and really developed BIM, which was then starting to really get talked about. Between colloquiums, conferences, internal development of work methodologies, I was able to bring together a set of work logics, procedures and federate them around a common thought: BIM. I put a name and faces on the approach that was mine and that of some of my colleagues from the beginning through my various professional experiences.
I am now self-employed, as a trainer and consultant on Tekla, Revit, Archicad and BIM in general and provide technical assistance for various clients, whether they are work execution companies, MOE design offices or MOA, and whatever their size.
Her values :
Convinced of the merits of collaborative work, of cooperation in general and by extension of all that BIM can bring to our fields of activity, I am driven by the desire to accelerate the democratization of a method that I believe to be both relevant and beneficial for the positive development of the quality of our works. But the tools to achieve this are not always the easiest to access. I have sailed in troubled waters for a long time to find courses, educational materials, or even literature on standards or uses, content that could have helped me understand the cogs that make the Database and its model turn. visual, the Digital Model, faster than I have been able to do. Today and for 4 years, after many pitfalls in this research, I have therefore chosen the path of training to be as close as possible to the demystification of BIM initially and support in all its forms on the long time, in order to transmit in the most direct and efficient way that I can, the proper tools to develop BIM in all the interstices of this gigantic machine that is the Construction sector.
"Because when you have a taste for things, when you have a taste for something well done, the beautiful gesture, sometimes you do not find the interlocutor in front, I would say, the mirror that helps you move forward."
But HEXABIM has been able to bring together many profiles, with varied and complementary experiences and degrees of mastery, to become this mirror. This currently makes it a reference on the transmission of BIM in the French-speaking world (and perhaps outside) and a perfect platform to bear witness to this fundamental and central notion of BIM, namely the grouping and structuring of Information around 'a common tool. It is to exchange and technical forums what the Digital Model is to projects.
His projects :
The latest projects I have worked on in recent years are diverse. Silo parking, hospital, penitentiary center, municipal swimming pool, train station and old office buildings. As a trainer and service provider, I alternately occupy the role of designer, project manager, BIM manager or trainer / coach, depending on the needs of the various clients. In any case, I also and above all hold the role of BIM coordinator, in order to allow these same clients to gain autonomy on their next projects.
The heart of my current project is the creation of training materials and practical guides on various software and technical and normative aspects of BIM, in the form of easily accessible videos, in order to allow any company, whatever its availability, its means financial or human, to confidently start the deployment of BIM within its structure.
As a pure service, I am moving more and more towards computer graphics and virtual tours, two activities which are a very interesting gateway to BIM, because selling BIM also means selling the project well. A beautiful image is in this a better lever than a pompous normative documentation, while opening up access in a fun way to new technologies.
His findings on the adoption of BIM :
Great disparity of needs and means, difficult or even impossible amortization of the constraints induced by a sometimes restrictive process, standards not very affordable in terms of price and comprehension, absent legal framework, etc. We could list the countless amount of brakes on the expansion of BIM that we wouldn't get out of the rut. As long as there is not some kind of clear, concise, exhaustive and "how-to" universal practical guide to the procedures to be applied to a BIM project, its adoption will remain relative. And this is also becoming a major obstacle: the divide between companies with a strong investment, research and development capacity and those more modest which are faced with the difficulty of accessing them for various reasons, is widening further as the BIM is gaining momentum among the former and penalizing the latter. It also increases the perception that certain actors may then have that BIM is dedicated to large projects, to complex projects, to one or another actor in particular, or to project owners with significant assets under management, thus diverting them from the path. which nevertheless seems to be the one that will prevail, sooner or later.
Here then is an axis on which it is essential to act: to reduce this divide as much as possible, by putting the accumulated mutual experience at the service of the greatest number. If BIM is adorned with the virtue of collaboration during the studies of a site, even its execution, it would be logical and also desirable that this same collaboration is instilled more and more between the economic partners and the various actors of the construction. construction, so that good practices are disseminated as widely as possible.
A precise and unified directive on public procurement is also desirable. Comprehensible and achievable specifications, but mandatory for all public contracts now become a necessary passage point to channel the spectrum of developments, research, ideas that have germinated in recent years to produce more or less rich models of information and more or less reliable and consistent with each other. It is a privileged means of action, because it makes it possible to place all the actors of a project on an equal footing with respect to the expected result.
A common and clearly identified objective, associated with the circulation of information and access to effective training, form a solid pair to generate better support and an acceleration of the deployment of these processes among the greatest number of people.
---
Raphael Blaiteau, BIM and Revit coordinator
Coming from the second promotion of the Master in Civil Engineering: collaborative digital engineering for construction - BIM (I have experienced several aspects of BIM through my studies and professional experiences (Project management, structural design office, architectural firm) , industrial, ...)
Her values :
Helping others and solving problems is second nature to me. I believe that it is essential to share knowledge in order to develop global knowledge by sharing with other actors.
His projects :
I am working on a nuclear power plant project (abroad). At the same time, I am working on creating the families, processes and Dynamo scripts necessary for the company.
His findings on the adoption of BIM :

The adoption of BIM in France is constrained by several main points, including: ignorance of the gains brought about by this process, a significant investment (mainly in training) and a return to normal that may seem too long.
To respond to these obstacles, it is important to communicate the gains as well as support for the deployment of BIM.
Benoit Dargent, draftsman-designer & BIM referent

In 2006 when I arrived at Pierre Louis Carlier, the agency was already working exclusively on Revit, it was Thomas Chuffart who trained me on the software. All the projects were shared and all the deliverables were taken from the models (BIM 1). It was when I arrived at the MAES agency that the subject of BIM became concrete, I took charge of the archi model of the ICP (Institut Cœur Poumon) site, with my first "BIM charter". I mainly work on the group's hospital projects, a sector where BIM has become a standard, I also participate in the implementation of charters and discussions on projects from other clusters.
Her values ​​:
When I started to work on Revit I registered on the AUGI user forum and I met a French community there always ready to share its knowledge with the new ones, I progressed a lot thanks to this and small gradually I started to help in my turn, I even integrated the team of the forum. Since then, as much as possible, I continue to lend a hand when my knowledge allows it, it is a role that I occupy within the MAES group. This allows me to progress by seeking solutions and to advance people around me within my team or on platforms like HEXABIM.
His projects :
Institut Cœur Poumon (Lille) 541 beds treating thoracic, cardiac and vascular pathologies. The project consists of a general restructuring of the existing building and a new construction (+ 33000m²). Delivery March 2021.
Gerontology Center at Simone Veil Hospital in Cannes: an area of ​​18 m936, the new three-storey gerontology center will have 2 places.
His findings on the adoption of BIM :
Working mainly on hospital projects, in this sector BIM has become a standard, on the other hand there is still a lot of work to be done so that BIM can really take a place in housing projects and rehabilitation projects. Much remains to be done on the side of legislation, the MOP law and the roles of the various project stakeholders, in order to establish a framework that will make it possible to rule out legal insecurities and promote the use of BIM.
There remains the integration of construction SMEs, for whom the investment / cost ratio remains a brake on the development of practice on smaller projects.
---
Christophe Fortineau, independent, Trainer, Consultant, AMO BIM

2005 to date - Employee in architectural firms and other design offices
2005 to 2010 - Autocad designer
2009-2010 - Revit Modeler
2010 to date - Independent provider
2010 to date - Archicad Modeler
2015 to date - Archicad trainer
2017 to date - openBIM trainer
2019 to date - AMO BIM
Her values ​​:

Collaboration with the greatest number is the DNA of BIM. It is therefore essential to be confronted with the practices of others. Believing in your mastery of a subject through the prism of your own design and collaboration environment is therefore an obstacle to the qualitative adoption of BIM. Sharing knowledge multiplies it without dispossessing us of it.
Intervening with MOAs and higher education institutions greatly contributes to this idea of ​​increasing one's skills through sharing.
His projects:

21 housing units - Nantes (44) - Private and public project management - 1m500

98 housing units & business premises and offices - St Herblain (44) - Private and public project management - 7m800

Nursery 98 beds - Nantes (44) - Private MOA - 1m

42 housing units - Nantes (44) - Private project management - 2m400

School group - Nantes (44) - Public project management - 5m300

His findings on the adoption of BIM :

BIM design is a comfortable professional asset and not a technical constraint. My specialty is to prove it every day by training but also by production in agencies. Testing my skills and teaching them are my main motivations.

Improve your BIM teaching through practice in an agency and vice versa. Practicing BIM as a service provider (external to any form of design) does not seem appropriate to me. You have to experience the problems of your co-contractors and colleagues on a daily basis to practice BIM effectively.

Mastering a tool or a range of tools does not mean mastering BIM. Believing in your mastery of a subject through the prism of your own design and collaboration environment is therefore an obstacle to the qualitative adoption of BIM. The tool or even the design tools are never more than a gateway to standardized and certified BIM.

On the same project, the disparities in the time allocated to BIM within the BEs of all specialties are abysmal. Working hours or months or even years on a BIM project leads to more or less virtuous design practices.
---
Jerome Pereira, technician of execution studies in electricity
Despite my education in electricity, I started in BIM in 2014 as an HVAC designer for a small company that trained me on the basics.
But it was in 2018, starting in the company where I am now, that I was able to really get into the different aspects of BIM. Creation of templates, parametric families, data integration, script settings in Dynamo, Python, C #.
Today, even if the electricity package would need a lot of upgrades, I start my projects with the same serenity as when I had to return documents on Autocad.
Her values ​​:
Some issues are very familiar to me.
For my part, I have been lucky to have been well surrounded, so I try to help people with the skills that I have been able to acquire during the last years.
His projects:
One of our current projects is a training campus. These are 3 buildings with a different structure (metal, concrete and wood) for a surface area of ​​12000 m² and which will accommodate 300 trainees.
We carry out studies in electricity, air conditioning, plumbing and photovoltaics.
His findings on the adoption of BIM :
The main problem for me is the lack of standardization. Everyone "adapts" their model according to need. By that I mean: the way to represent a 2D element, the choice of the category, the filtering method for the rendering of the planes, the naming of the parameters ...
---
Lionel perrin, Expert engineer Bim Infrastructure:
External consultant for Autodesk France for 3 years and for the MINnD project and since 2018 trainer and consultant in BIM Infrastructure at Géomédia, solution editor for VRD, road and rail project.
Her values :
The pleasure of sharing, of making known good practices so that everyone can work optimally.
BIM allows productivity gains, a more powerful means of control than simple 2D plans.
I also like to understand the difficulty of differentiating the notion of one-off work that we draw with Revit from linear structures to be designed with specific software. For each use its software
His projects :
ZAC de l'Arsenal as AMO BIM, and in support of the BE for the use of software on various projects.
His findings on the adoption of BIM :
I see a constant evolution since 2017 in the field of infrastructure.
The brakes are above all the understanding of what BIM is, what it can provide and the transmission of information. Change the uses between the BE project management and the EXE companies.
For areas for improvement: pending IFC 4.3 and above all 5 to have a real IFC infrastructure
---
Michaël Fauchet, BIM Manager
First the use of 3D in architectural software (not to mention "Data") and then implementation of BIM processes within a large multidisciplinary group and implementation of new work tools. Today at Patriarche, I continue to develop the processes and exchanges between the different professions that constitute the agency and the external offices.
Her values :
The sharing of knowledge and experiences is always rich. Together we are making progress.
His projects:
BIM management mission from the design through the execution phase, to the digital DOE on any type of building (Housing, laboratory, offices, industry, ...)
His findings on the adoption of BIM :
I have the impression that for a few years now we have just started over. There were the 2018 targets and now the 2022 targets… However, I think the French market is very advanced. There are a lot of "motivated" actors and that feels good. We must recognize that things are moving. Enough or not? Difficult to say at the moment. What is missing is the "after": project maintenance management.
This part is very important. It is highlighted because it is one of the purposes, but it is often lost along the way, sometimes to no longer exist, even though it is one of the prime objectives of project management.
---
Remy Maurcot, BIM Product Manager
Passionate about drawing, I quickly became interested in new 3D technologies, via AutoCAD, REVIT, 3dsMax, or SolidWorks software, and I decided to make it my job.
Former manager of a 3D cell made up of 8 people in a consulting engineering firm, I worked on 3D modeling of large structures using the Rhinoceros software in particular. The latter also opened me up to the world of application development, consulting and training, activities that I have been carrying out since 2011.
My early career as an assistant site supervisor, followed by my progress within the design office, gives me a global vision of architectural projects.
Her values :
Knowledge sharing and mutual aid.
His projects :
Integration of the Onfly solution for various large accounts.
R&D.
His findings on the adoption of BIM :
The adoption of BIM has taken a turn in recent years with the advent of BIM and we see that most of the big construction markets are in BIM today. Companies are more and more mature on the subject and this is reflected in the discussions we can have with our various clients. Much remains to be done to be 100% BIM, but the train is on and is not about to stop.
---
On the same subject:
By accepting you will be accessing a service provided by a third-party external to https://www.hexabim.com/